Suzuken Co., Ltd., (head office: Nagoya City, Aichi; Chairman and Executive Officer: Hiromi Miyata; hereinafter referred to as "Suzuken") and DOCTORS Co., Ltd., (head office: Minato-ku, Tokyo; President & CEO: Takao Yanagawa; hereinafter referred to as "DOCTORS") hereby announce that they will develop and provide comprehensive medical DX solutions to medical institutions, pharmaceutical companies, and patients by leveraging the DX platform that both companies are promoting.
The two companies concluded a capital and business alliance in November of last year. Since then, they have jointly promoted the building of a medical DX platform, and now they will newly develop and provide a one-stop comprehensive medical DX solution available for doctors, pharmaceutical companies, and patients that integrates various digital healthcare services in Japan and overseas, including medical apps and services provided by a number of healthtech startups and the digital health care departments of companies.
Furthermore, the two companies will expand the capital and business alliance to accelerate this business, and Suzuken will additionally take a third-party allocation of new shares of DOCTORS by which both companies will strengthen their partnership.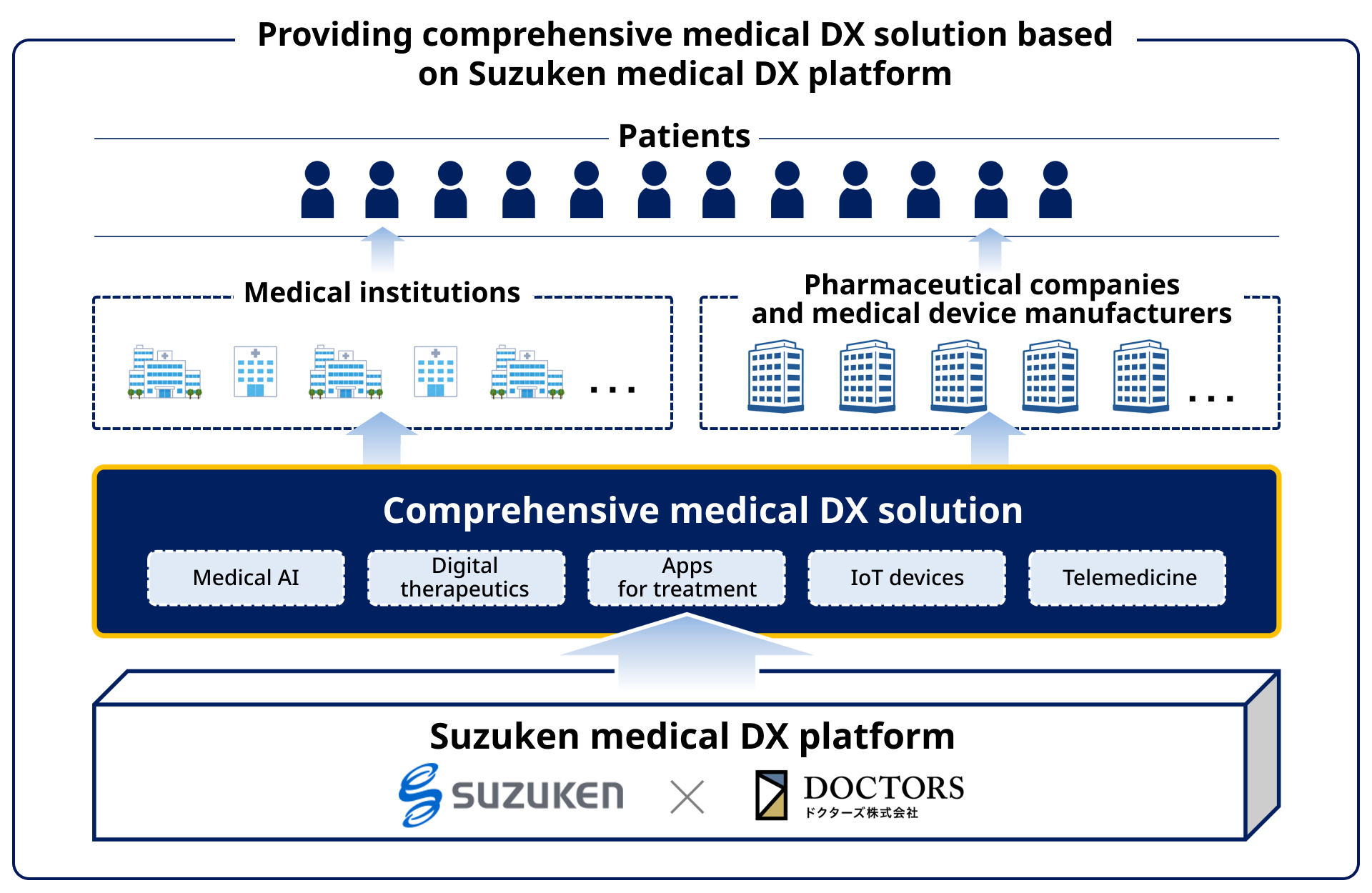 Figure: Suzuken medical DX platform and the comprehensive medical DX solution
The comprehensive medical DX solution to be newly developed and provided will be the foundation to achieving essential DX in medical institutions. In order to realize future medical care to utilize digital technologies and data, it is important to properly deliver a wide variety of services developed by healthtech startups and the digital healthcare departments of companies to doctors. However, as actual circumstances, each company has developed apps and services independently and promoted them individually so far, and thus, the medical DX environment has not been developed well enough for doctors to comprehensively address the issues.
In order to solve these issues, the Suzuken group, which has a knowledge and management base as a pharmaceutical wholesaler, and DOCTORS, which provides comprehensive support for medical DX and digital healthcare services, work on digitalization of medical practices by combining their expertise and networks to realize a system where doctors who aim to achieve digital hospitals and clinics of the next generation can use one-stop digital healthcare services with different kinds of medical apps and AI.
The two companies will contribute to the improvement of the quality of medical treatment and care of patients by providing the medical DX platform and the comprehensive medical DX solution to companies, medical institutions, and pharmaceutical companies that are developing digital healthcare services.
■ About Suzuken
The Suzuken group, founded in 1932 and listed on the First Section of the Tokyo Stock Exchange, is one of Japan's leading companies that develops pharmaceutical distribution and logistics services. Setting "Health Creation" as its business domain, Suzuken is comprehensively expanding businesses related to medical care and health, not only in its core business of wholesale of ethical pharmaceuticals but also in research, development, and manufacturing of new medicinal products and support for pharmaceutical manufacturers, insurance pharmacies, and nursing. In addition, Suzuken is the only company in the pharmaceutical wholesale business that has a medical distribution platform and a distribution function covering pharmaceutical manufacturers and wholesalers to medical institutions and insurance pharmacies. It has the strength to provide a one-stop service to respond to diversified and sophisticated medical distribution needs from the perspective of manufacturers, medical institutions, insurance pharmacies, and patients. The Suzuken group's annual net sales amount to over two trillion yen. The head office is located in Nagoya City, Aichi Prefecture, and it has approximately 15,000 employees.
[About DOCTORS]
DOCTORS is aiming to build an online medical care support platform that accelerates the development of community medicine and the digitalization of medical care with the "Powers of doctors x IT." Over 400 expert doctors with specialists and consultants with expertise in the medical and healthcare business provide one-stop support from the planning and development of digital healthcare services to distribution and sales to medical institutions by which the full-fledged commercialization of digital healthcare services with an exit strategy and sustainability will be achieved. DOCTORS established its original screening criteria and guidelines and selected expert doctors to provide advice based on their own specialties and experiences for clients to be able to create services in line with medical reality and to increase the probability of success in their business.
[Overview of Suzuken Co., Ltd.]
Company name: Suzuken Co., Ltd.
Representative: Hiromi Miyata, Chairman and Executive Officer
Location: 8 Higashi Kataha-machi, Higashi-ku, Nagoya City, Aichi
Date of establishment: August 10, 1946
Business description: Sales of ethical pharmaceuticals, reagents, medical equipment, medical materials, and food products, as well as development and manufacturing of medical equipment
URL: https://www.suzuken.co.jp/
[About DOCTORS]
Company name: DOCTORS Co., Ltd.
Representative: Takao Yanagawa, President & CEO
Head office: 5F PMO Hamamatsucho II, 2-3-6 Shibakoen, Minato-ku, Tokyo 105-0011 Japan
Date of establishment: September 2016 (Started business in October 2019)
Business description: Providing Doctors Cloud™, commercialization support for digital healthcare services leveraging the network of active expert doctors* based on its own guidelines; Doctors Next™, a total support service for medical DX and digital health; and Doctors Station™, a medical-collaborative telemedicine support service.
*EXPERT DOCTOR: A network of doctors who have top-class experience and achievements in the clinical environment and have a positive attitude toward digital healthcare and medical DX. More than 400 doctors, mostly specialists, participate in this network.
URL: https://topics.doctors-inc.jp/renew21