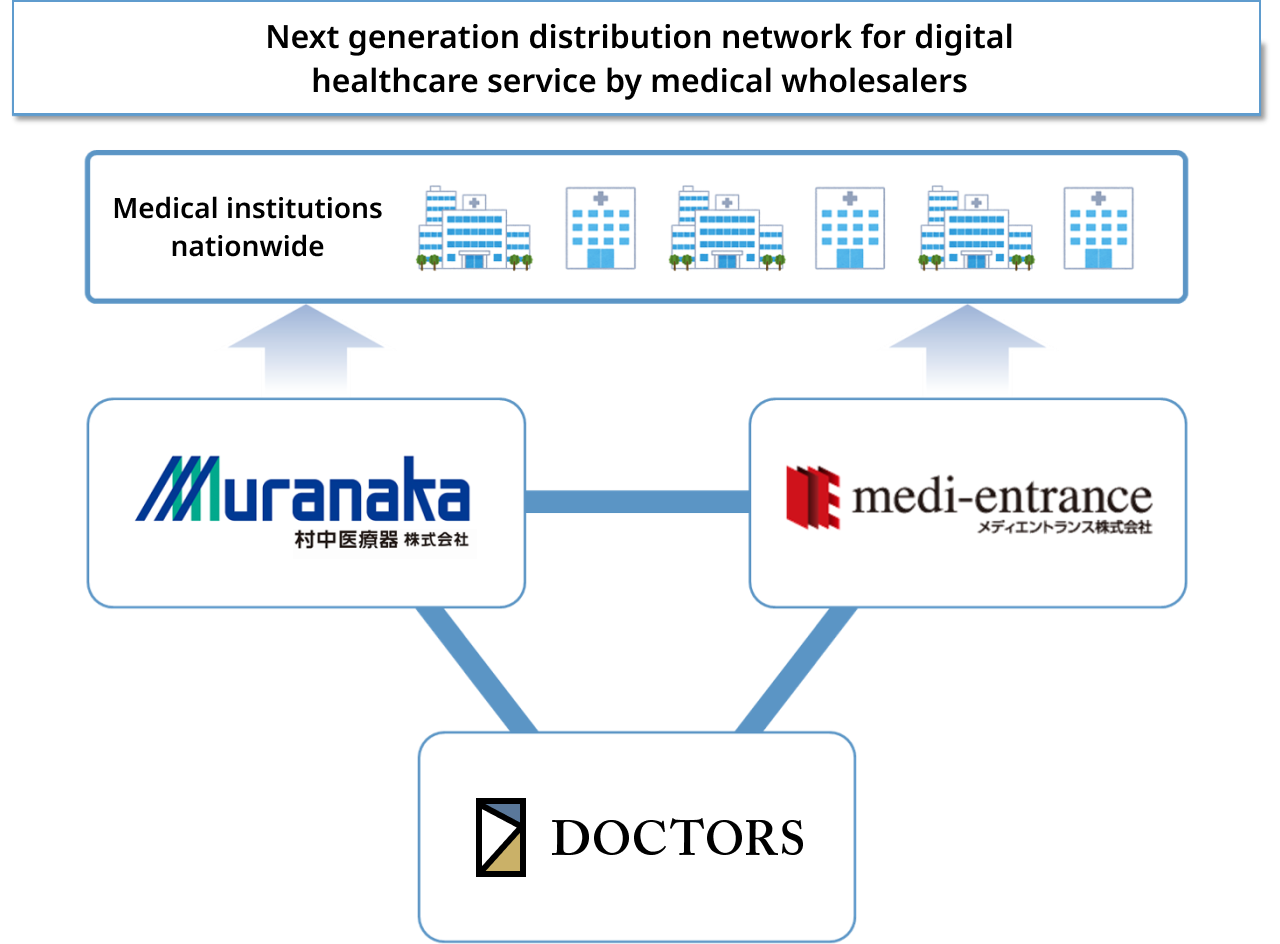 Muranaka Medical Instruments Co., Ltd., (head office: Chuo-ku, Osaka City, Osaka; President & CEO: Ryota Muranaka; hereinafter referred to as "Muranaka Medical Instruments") and its affiliate company, medi-entrance co., ltd., (head office: Minoh City, Osaka; President: Keita Kuromoto; hereinafter referred to as "medi-entrance"), and DOCTORS Co., Ltd., (head office: Minato-ku, Tokyo; President & CEO: Takao Yanagawa; hereinafter referred to as "DOCTORS") hereby announce that they have established a business and capital alliance to jointly promote the digital healthcare platform that supports the digitalization and digital transformation (DX) of medical institutions, which are accelerating in the age of digital healthcare.
In Japan, the increase in medical expenses due to the aging population has become a serious problem, and such new needs as the improvement of work productivity utilizing digital information in the clinical environment and the response to individualized refinement are rapidly increasing. In addition, the development of digital technologies is so remarkable that the medical DX market, such as telemedicine, treatment applications, and AI-enabled medical devices, is expected to expand.
While digital healthcare services that are used on various occasions surrounding the medical environment appear one after another with the advancement of digital technologies, and the way of medical care and treatment at medical institutions is forced to change because of the COVID-19 pandemic, in order to help solve problems at medical institutions, the above three companies will jointly promote the new platform business that accelerates the distribution of digital healthcare services to medical institutions and patients, which will be a new trend in the DX era.
Muranaka Medical Instruments and medi-entrance have agreed to establish the business alliance with DOCTORS, including equity participation, to expand the spread of digital healthcare services nationwide that grasp the fundamentals with the perspective of healthcare professionals by combining Muranaka Medical Instruments' and medi-entrance's solid business relationships with medical device manufacturers, sales companies, and medical institutions, as well as their wide distribution networks, with the power of DOCTORS 400 medical specialists x IT technologies.
■ Details of the business and capital alliance are as follows.
1.Building and developing the digital medical platform
By expanding digital medical information and community sites produced by doctors with knowledge of the medical device business and the power of more than 400 expert doctors, mainly specialists, we will build and develop an experiential and empathizing online platform for distribution and sales.
2.Dissemination and promotion of digital healthcare services
We will promote the spread of digital healthcare services developed from the perspective of healthcare professionals to medical institutions nationwide, so that co-medicals, such as doctors and nurses, as well as patients can use those services to improve the quality of care and treatment.
3.Contribution to the development of community healthcare and community-based integrated care
We will realize the digitalization and DX of medical institutions by utilizing digital healthcare services and will contribute to the further development of community healthcare, mainly of community-based integrated care.
■ About Muranaka Medical Instruments
Muranaka Medical Instruments is a company that purchases a wide range of products from domestic and international manufacturers but also possesses many in-house developed products, and it expands the wholesale business of medical devices for nationwide hospitals through a network of medical device companies. In addition, it even deals directly with universities, their hospitals, and major public and private hospitals in Osaka. As such, it is a trading company specialized in medical equipment with unique characteristics, having a large number of sales representatives in various business categories and conducting its businesses while building relationships with doctors and nurses on the medical forefront.
■ About medi-entrance
The company sells by catalog, called MEDICAL SUPPLY GooDs, which is specialized in medical supplies utilizing the medical ICT that facilities use. Focusing on medical consumables that are indispensable in the clinical setting, such as syringes, infusion sets, and sanitary products, the company deals with more than 25,000 items from more than 2,000 suppliers with speedy delivery and low prices, which is the company motto. Currently, the company works with many medical cooperatives nationwide and is one of Japan's largest dedicated suppliers for medical devices, serving more than 70,000 medical institutions, nursing facilities, pharmacies, and veterinary hospitals across Japan.
■ About DOCTORS
By aiming to build an online medical care support platform that accelerates the development of community medicine and the digitalization of medical care with the "Powers of doctors x IT," and by providing one-stop support from the planning and development of each business company's digital healthcare services to the distribution and sales to medical institutions by over 400 expert doctors, including specialists and consultants who are well-versed in the medical and healthcare businesses, DOCTORS will commercialize full-fledged digital healthcare services with an exit strategy and achieve a sustainable digital health business.Its expert doctors, who have been selected according to its original screening criteria and guidelines, provide advice based on their specialties and experience so that clients can create services matching real medical care, which will increase the probability of business success.
[Overview of Muranaka Medical Instruments Co., Ltd.]
Company name: Muranaka Medical Instruments Co., Ltd.
Representative: Ryota Muranaka, President & CEO
Location: 2-3-6 Funakoshi-cho, Chuo-ku, Osaka City, Osaka
Establishment: 1942 (Founded in 1903)
Business description: Import, wholesale, and retail sales of hospital equipment and medical devices
URL: https://www.muranaka.co.jp/
[Overview of medi-entrance co., ltd.]
Company name: medi-entrance co., ltd.
Representative: Keita Kuromoto, President
Location: 4F Erimo Bldg., 2-1-1 Senba-nishi, Minoh City, Osaka
Establishment: Year 2008
Business description: Catalog sales of medical devices and supplies to medical practitioners, nursing facilities, and pharmacies
URL: http://medi-ent.co.jp/
[About DOCTORS]
Company name: DOCTORS Co., Ltd.
Representative: Takao Yanagawa, President & CEO
Head office: 4F Kintetsu Ginza Chuodori Building III, 1-7-10 Shimbashi, Minato-ku, Tokyo
Establishment: Year 2016 (Business launched in 2019)
Business description: Providing Doctors Cloud™, support for the commercialization of companies' digital healthcare services, leveraging a network of active expert doctors (more than approx. 400 as of today) based on its own guidelines, and Doctors Station™, an online medical support platform to realize a nationwide medical referral network.
URL: https://doctors-inc.jp/