Please be advised that Sanmaruko Foods Co., Ltd., (head office: Sapporo City, Hokkaido; CEO: Koichi Fujii; hereinafter referred to as "Sanmaruko Foods"), a frozen food manufacturer that promotes the production of delicious foods based on the principle of safety, security, health and honesty under a thorough hygiene policy, has launched the sale of Dr. Dish, a home delivery service offering frozen meals with online nutrition consultation, which was developed with the support of Doctors Co., Ltd. (head office: Minato-ku, Tokyo; president and CEO: Takao Yanagawa; hereinafter referred to as "Doctors"), a company that provides comprehensive support for digital healthcare services from development to platform offering.
Dr. Dish is a service for the home delivery of frozen meals designed from the perspective of expert doctors* on the medical frontline and according to medical guidelines. Clinical research, for which funds are procured through crowdfunding, is conducted to validate the impact that Dr. Dish has on blood sugar control. Dr. Dish applies to a wide range of uses: as dietary therapy, it is helpful for a variety of lifestyle diseases, including diabetes, and it is available for those whose diets tend to be unbalanced and those who find it difficult to go out to grocery shop due to advanced age.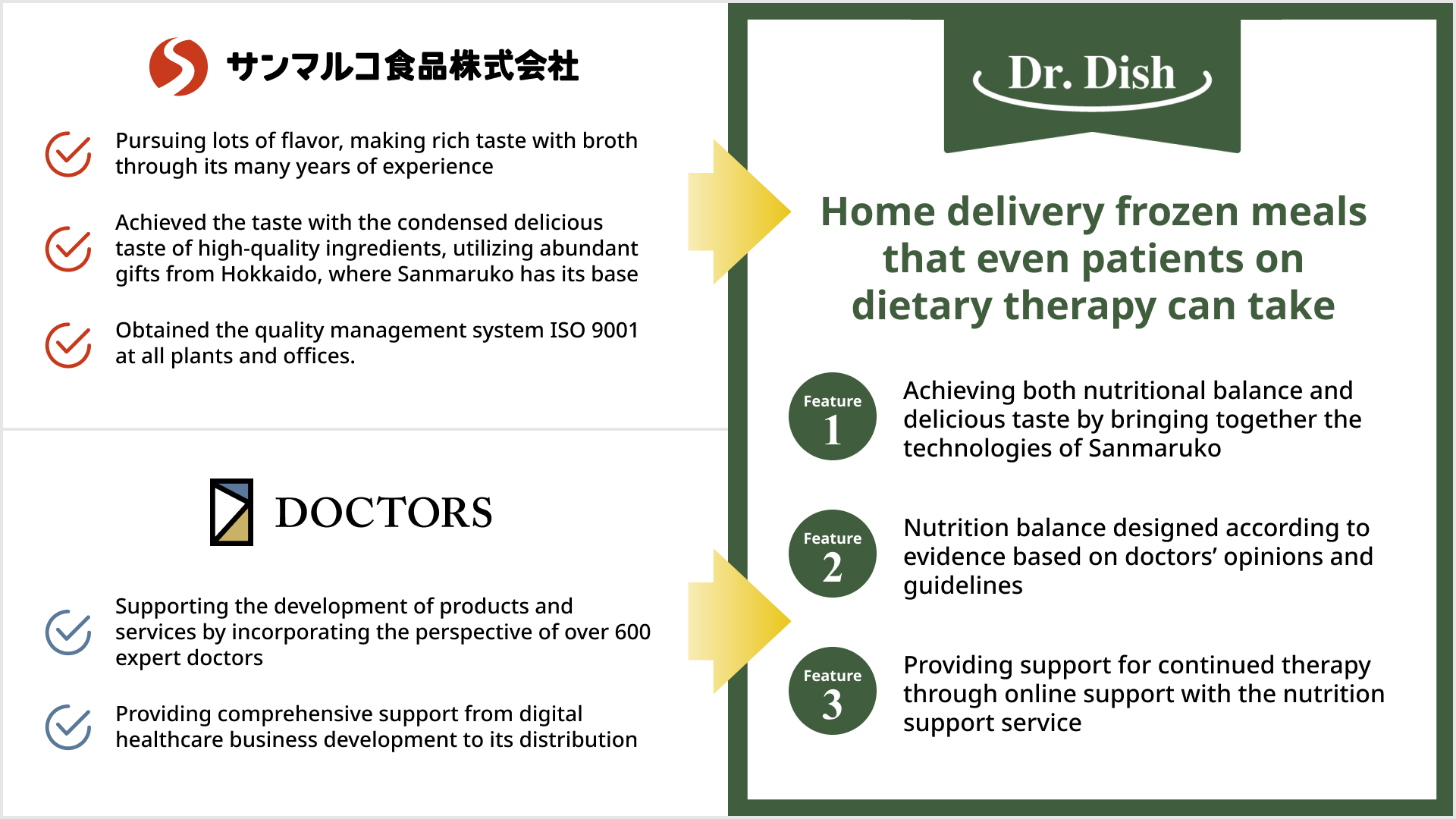 Figure: Features of Dr. Dish
Moreover, in its quality designs, Dr. Dish is focused on achieving a satisfying delicious taste with lots of flavor, which is savory, rich and deep, even at a low salt content level of 2 g or less per serving, while controlling nutrient components, such as sugar, fat, and salt, as well as calories.
■ Quality design with Dr. Dish
– Design with layers of savory flavor to draw complex tastes
– Design to increase chewing time to achieve satisfaction
– Design standardizing the composition of several textures and thicknesses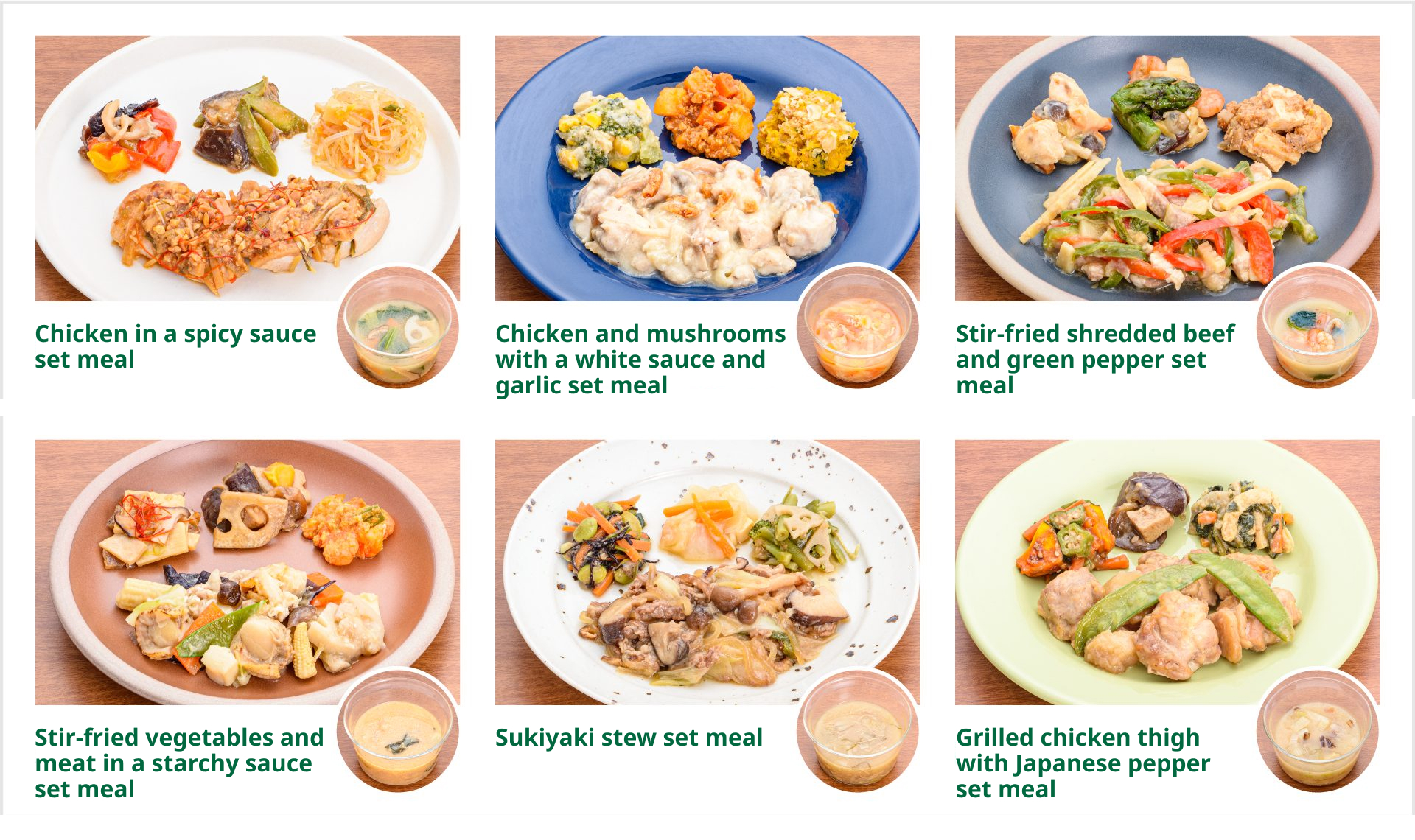 Figure: Examples of Dr. Dish's meals
Furthermore, the Nutrition Support Team will provide customers with online nutrition consultations for support on any issues related to food that they may have.
A support app for medical care and nutrition, implementing health support from doctors, is scheduled for release. Thus, we will further enhance our comprehensive support.
■ Subscription plan for Dr. Dish

*The prices above include shipping fee (except for some areas, such as Okinawa and remote islands) and tax.
You can select the delivery frequency from once a week, once every two weeks, and once a month.
*You can purchase from one meal (at 1,620 yen excluding shipping fee).
Set meals are available for purchase as you go, too.
We prepare arrangements so that Dr. Dish will be available at medical institutions (including hospitals, clinics, and pharmacies) nationwide, too, in collaboration with medical institutions.
Contact information
◆ Purchase of products: Doctors Next Business Unit (ddsales@doctors-inc.jp)
*Please contact us here if you require product handling as a medical institution or you want to purchase products.
◆ Business development: Doctors Cloud Business Unit (doctors-cloud@doctors-inc.jp)
Company overview
[Overview of Sanmaruko Foods Co., Ltd.]
Representative: Koichi Fujii, CEO
Head office: 1-1-48 Atsubetsu Higashi 4-jo, Atsubetsu-ku, Sapporo-shi, Hokkaido
Establishment: December 1979
Business description: Manufacturing and selling frozen foods mainly with croquette, spring rolls, gratin, imo-mochi (potato cake), sauce, and soup
Website: http://www.sanmaruko.co.jp/
[Overview of Doctors Co., Ltd.]
Company name: Doctors Co., Ltd.
Representative: Takao Yanagawa, President & CEO
Head office: PMO Hamamatsucho II 5F, 2-3-6 Shibakoen, Minato-ku, Tokyo
Establishment: September 2016
Launch of business: October 2019
Business description: By making use of the network of active expert doctors※ based on its own guidelines, Doctors Co., Ltd., provides services that include Doctors Cloud® that offers planning and development support for commercialization of digital healthcare services, Doctors Next® that offers comprehensive support services for medical DX and digital healthcare, and Doctors Station® that offers online medical support services in collaboration with medical care.
Website: https://doctors-inc.jp
*Expert doctors: A network of doctors with top-class clinical experience and achievements as medical doctors, as well as a positive attitude toward digital healthcare and medical DX. More than 600 doctors, mostly specialists, participate in the network.