– Developing the large-scale vaccination service for municipalities, companies, and universities –
For mass vaccinations organized by local governments and workplace vaccinations by companies and universities, DOCTORS Co., Ltd., (head office: Minato-ku, Tokyo; President & CEO: Takao Yanagawa; hereinafter referred to as "DOCTORS") will start providing a set of systems necessary for vaccinations, such as providing medical human resources that include doctors and nurses engaged in COVID-19 vaccinations and operating the online pre-examination system, including business affairs related to vaccinations.
Following the announcement of the government policy on mass and workplace vaccinations for COVID-19, we, DOCTORS, will establish a large-scale vaccination system promptly to contribute to the acceleration of vaccinations by integrating our three services: 1) the utilization of a network of over 400 expert doctors, mainly with specialists; 2) staffing of doctors and nurses by our consultants who are well versed in the digitalization of the medical and healthcare businesses; and 3) an online pre-examination system that makes use of Doctors Station™, an online medical care support platform.
While many local governments are going to execute mass vaccinations along with companies and universities that consider the implementation of workplace vaccinations as voicing concerns where it is difficult to establish a perfect system for implementing large-scale COVID-19 vaccinations, DOCTORS will provide a one-stop service in offering medical personnel for the vaccinations in both environments of on-site and online and offer a wide range of support.
We will comply with security and laws for the online pre-examination system in remote settings and propose a new operational system with flexibility and speed.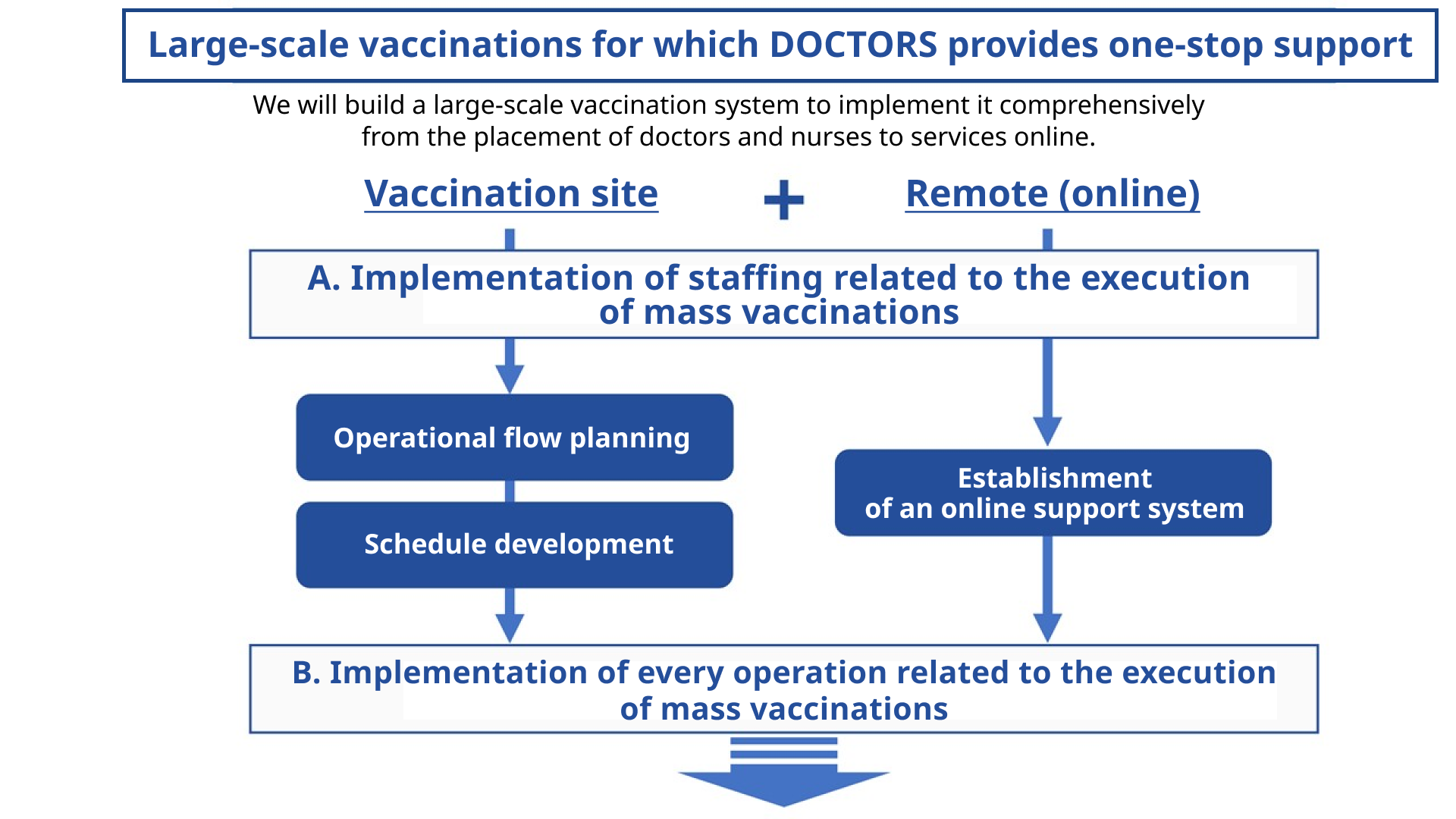 [Description of services in detail]
(A) Staffing related to the implementation of mass vaccinations
– Doctors on-site
– Doctors online
– Nurses on-site
– Assistant staff on-site
(B) Every operation related to the implementation of mass vaccinations
– Check of pre-vaccination screening questionnaire
– Pre-examination
– Vaccination
– Issuance of vaccination certificate
– Measures against adverse effects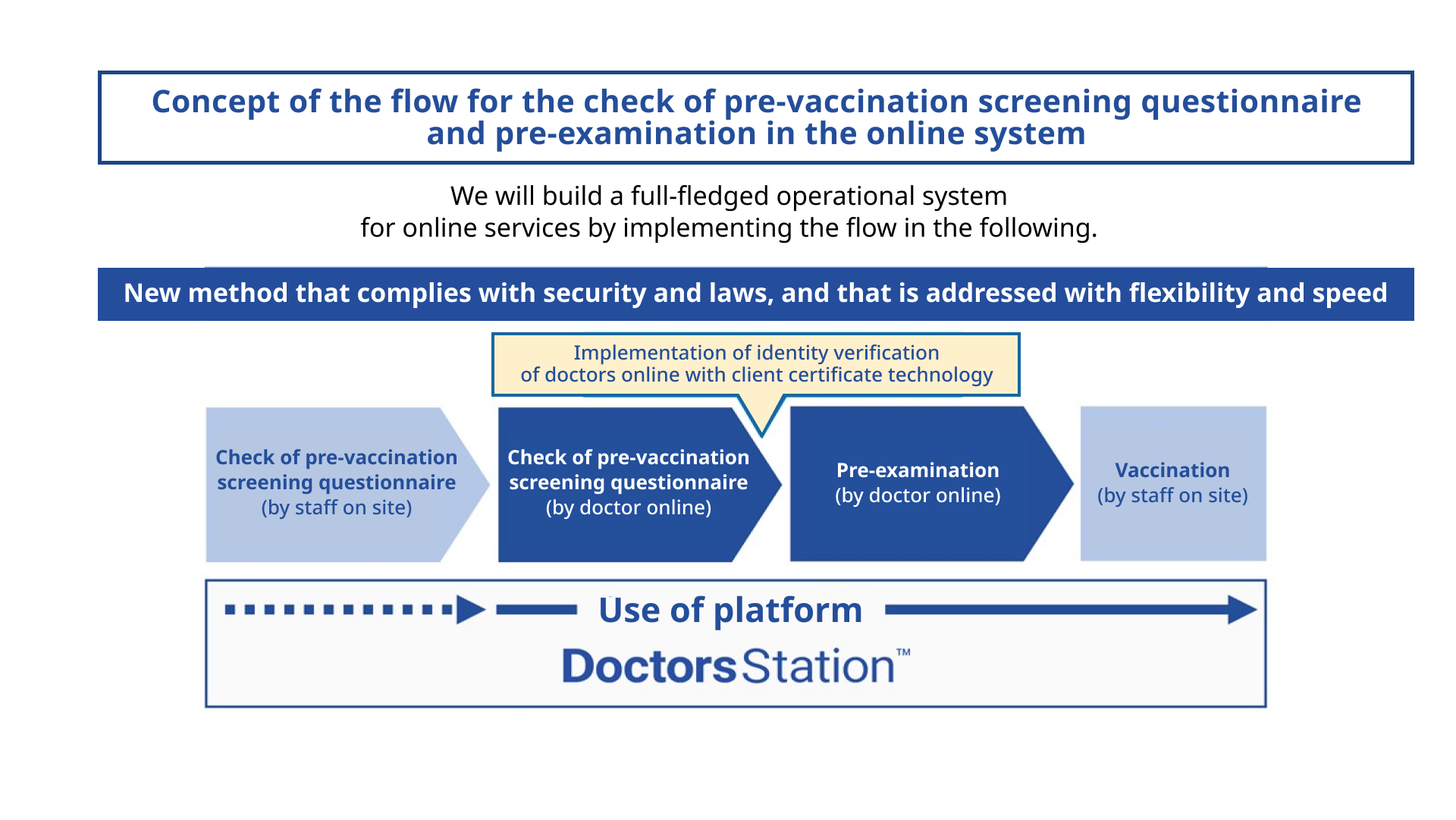 DOCTORS will provide its full support to create an environment where those who wish to get vaccinated can do so; to prevent infections, worsening, or an epidemic; and to contribute to the early achievement of herd immunity and the resumption of economic activities.
■Inquiries: https://doctors-inc.jp/contact/
■ About DOCTORS
By aiming to build an online medical care support platform that accelerates the development of community medicine and the digitalization of medical care with the "Powers of doctors x IT," and by providing one-stop support from the planning and development of each business company's digital healthcare services to the distribution and sales to medical institutions by over 400 expert doctors, including specialists and consultants who are well-versed in the medical and healthcare businesses, DOCTORS will commercialize full-fledged digital healthcare services with an exit strategy and achieve a sustainable digital health business.