DOCTORS Co., Ltd., (head office: Minato-ku, Tokyo; President & CEO: Takao Yanagawa; hereinafter referred to as "DOCTORS"), which provides one-stop support for the commercialization of digital healthcare services, will strive for the safety and reassurance of everyone by further expanding the system of postal PCR tests for companies and organizations.
The number of COVID-19 cases has increased for four weeks in a row since July, and the fifth wave of the spread of the infection has arrived. Even now, in August, the number of cases continues to increase, and the situation is aggravating day by day.
Though the number of vaccination doses administered is increasing, there are concerns about the emergence of a new variant. Therefore, it is considered necessary that we should continue to implement prevention measures against COVID-19 with PCR testing without relaxing the infection control measures for a while.
In response to such demands from society, DOCTORS, which has medical specialists with extensive knowledge and experience in medical practice, will further strengthen its system for postal PCR testing that allows companies and organizations to perform PCR tests.
DOCTORS has been providing the postal PCR testing service by using a test kit that has the quality accepted by medical institutions, and now we are prepared to promptly respond to not only individual customers but also companies and organizations to increase the number of available testing personnel to accommodate inquiries and deliveries more promptly.
Companies and organizations require gathering places and transportation, such as workplaces, commuting, business trips, and travel to other prefectures. The postal PCR testing service allows DOCTORS to provide for the safety of the employees and staff of such companies and organizations and to provide reassurance to clients more swiftly and with greater convenience.
In addition, we are fully prepared to provide a follow-up service after testing as DOCTORS has partnerships with medical institutions as well.
******************************
– The website for the sales of the PCR testing service is available for companies, organizations, and individuals.
– The cost of testing is 8,800 yen or higher including tax. In the meantime, a substantial discount is available for bulk orders.
– If you would like to introduce the PCR testing service, please visit the following website of Doctors Laboratory, and click the [Apply for the testing service].
– Please feel free to contact us by phone or e-mail if you have any questions and need advice or an estimate of the cost.
[Doctors Laboratory] (Referral sales of postal PCR testing)https://lab.doctors-inc.jp/
[Inquiries]
TEL: +81-3-6263-8871
Email: info@doctors-inc.jp
[Implementation flow for postal PCR testing service]
1. Inquiry or order of PCR testing
‐ Confirming requests in advance to a person in charge of the company (a client)
‐ Confirming where to get a test (at branch, sales office, store, or home), the target, the number of the targets, and the time and date
2. Shipment of test kits
‐ Shipping test kits and instruction for use
‐ Combined shipping or shipping a test kit to individual subject's home (can be selected)
3.Sending saliva sample
4. Notifying clients of the test results
5. Reporting the implementation status to the person in charge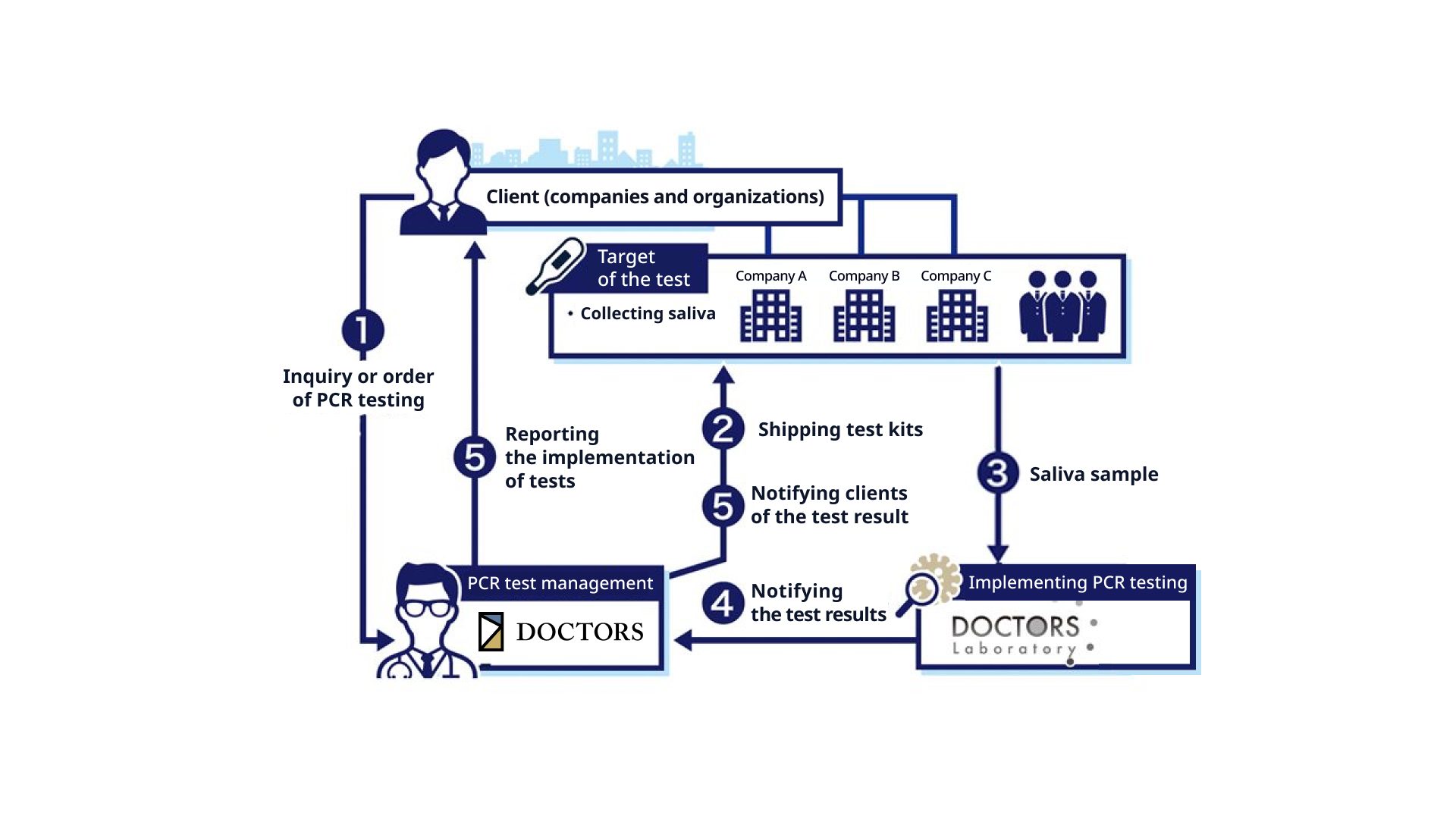 Applicable areas: anywhere in Japan except for remote islands
Time to get the test results: on the same day, if the test sample arrives by 3:00 p.m.
Available days for testing: 365 days a year (The results will be notified even on Saturdays and Sundays.)
■About DOCTORS
By aiming to build an online medical care support platform that accelerates the development of community medicine and the digitalization of medical care with the "Powers of doctors x IT," and by providing one-stop support from the planning and development of each business company's digital healthcare services to the distribution and sales to medical institutions by over 400 expert doctors, including specialists and consultants who are well-versed in the medical and healthcare businesses, DOCTORS will commercialize full-fledged digital healthcare services with an exit strategy and achieve a sustainable digital health business.
Representative:Takao Yanagawa, President & CEO
Head office:5F PMO Hamamatsucho II, 2-3-6 Shibakoen, Minato-ku, Tokyo 105-0011 Japan
Date of establishment:September 2016 (Started business in October 2019)
Business description:Providing Doctors Cloud™, commercialization support for digital healthcare services leveraging the network of active expert doctors based on its own guidelines; Doctors Next™, a nationwide medical-collaborative network service; and Doctors Station™, a telemedicine support platform.
Official website:https://doctors-inc.jp/
[Inquiries]
DOCTORS Co., Ltd.
TEL: +81-3-6263-8871
Email: info@doctors-inc.jp