DOCTORS Co., Ltd., (head office: Minato-ku, Tokyo; President & CEO: Takao Yanagawa; hereinafter referred to as "DOCTORS"), which provides one-stop services for the development support, sales, and distribution of digital healthcare services and the platform supporting medical cooperation telemedicine, hereby announces that it has drastically upgraded its medical system for providing vaccination utilizing Doctors Station™ in response to the government's announcement that the third dose of COVID-19 vaccine would be moved up. This is a brushed-up support system combining the provision of medical personnel, such as doctors and nurses, involved in the implementation of COVID-19 vaccination, IT system integration, such as appointment control, and medical operation flow uniting these systems, which have been provided by DOCTORS, intended for large-scale vaccinations sponsored by local governments and workplace vaccinations at companies and universities.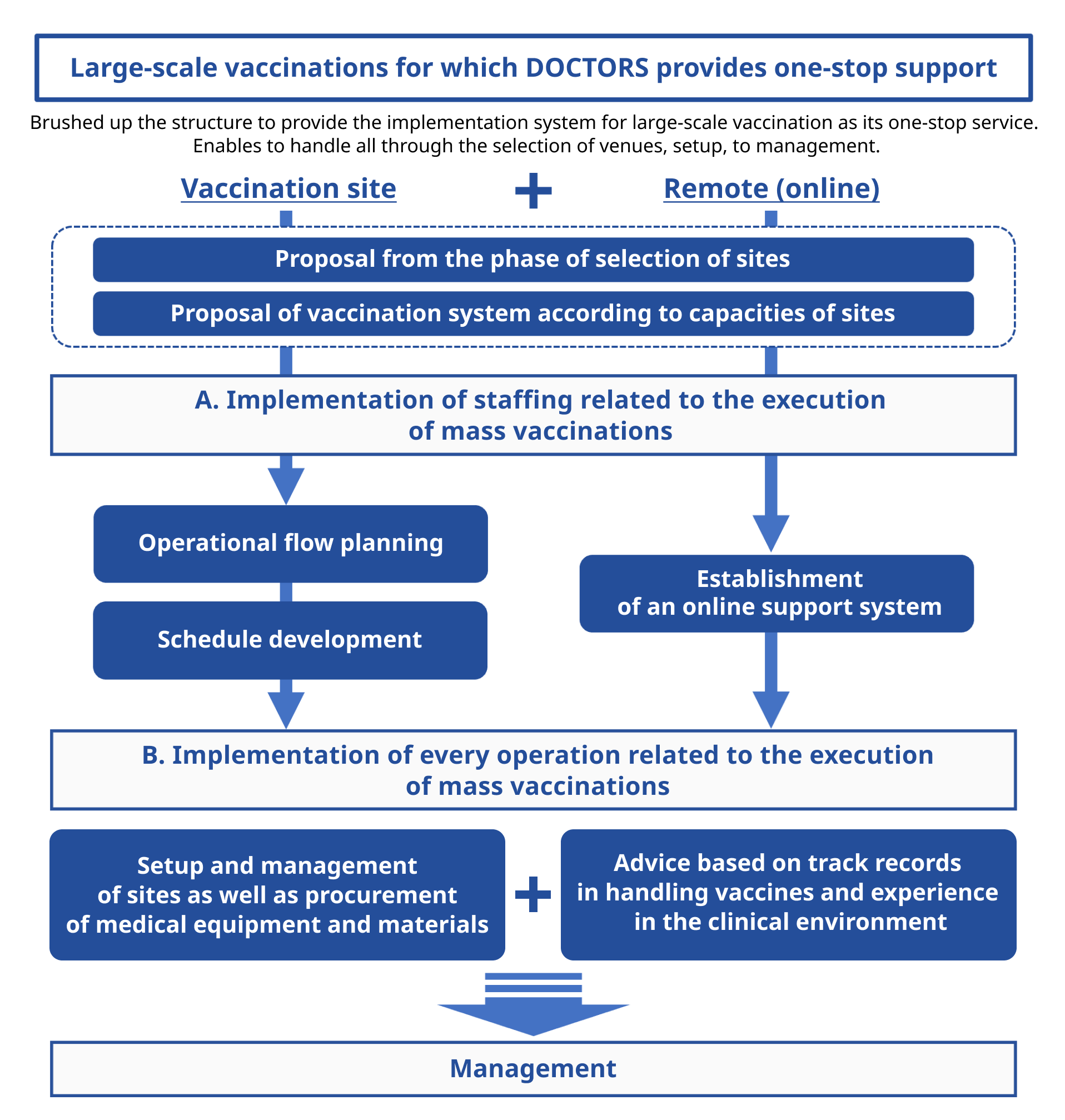 Figure: Flow of a large-scale vaccination by DOCTORS
Based on numerous track records and experiences that DOCTORS has had for supporting mass vaccinations by municipalities and workplace vaccinations led by companies, DOCTORS will establish and provide a new medical support system as one optimized to implement the third dose of the COVID-19 vaccine that is about to start and for which we have added four support components: (1) proposals for efficient and secure vaccination systems according to capacities of individual sites; (2) proposals from the phase of selection of sites; (3) setup and management of sites, as well as procurement of medical equipment and materials; and (4) advice based on our track records in handling vaccines of various pharmaceutical manufacturers, and our experiences built up in the actual clinical environment.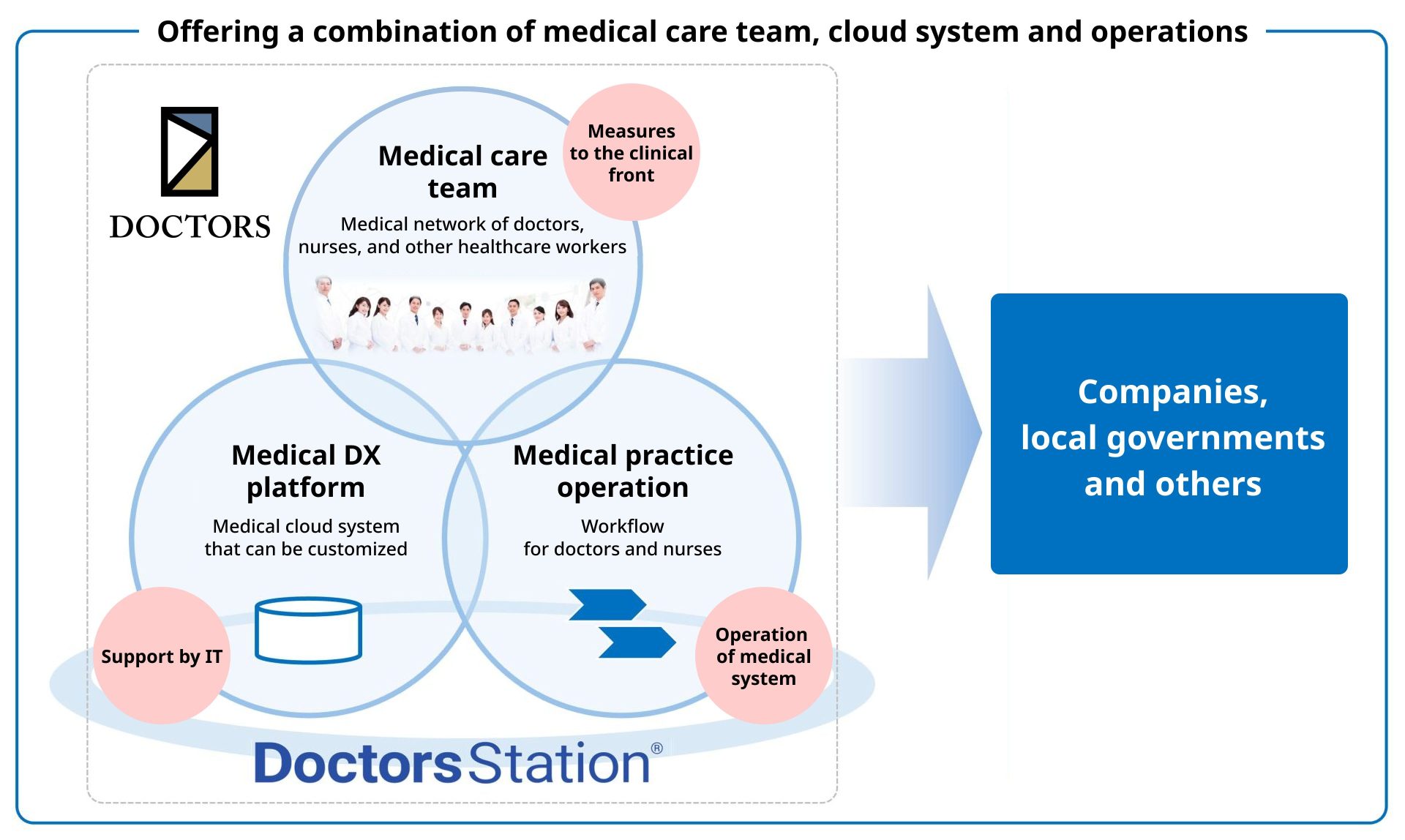 Figure: Conceptual diagram for Doctors Station™️
As concerns about the sixth wave rise due to the epidemic of the Omicron variant, we, DOCTORS, will expand our total medical support services consisting of the provision of the medical team, the IT system, and medical operations utilizing Doctors Station™ by which we will provide a secure, prompt, and reliable vaccination system.
[Description of services in details]
● Staffing related to the execution of mass vaccinations
– Doctors on-site
– Doctors online
– Nurses on-site
– Assistant staff on-site
● Construction of operational flow (every operation related to the execution of mass vaccination)
– Check of pre-vaccination screening questionnaire
– Pre-examination
– Vaccination (applicable to various pharmaceutical manufacturers')
– Issuance of vaccination certificate
– Measures against adverse effects
● Utilization of IT
– Online medical interview
– Booking system
● Support for site management (additionally applied from this time)
– Advice on the selection of sites
– Designing of vaccination system according to capacities of sites
– Setup and management of sites
– Procurement of medical equipment and materials
■ About DOCTORS
DOCTORS is aiming to build an online medical care support platform that accelerates the development of community medicine and the digitalization of medical care with the "Powers of doctors x IT." Over 400 expert doctors with specialists and medical DX consultants with expertise in the medical and healthcare business provide one-stop support from the planning and development of digital healthcare services to distribution and sales to medical institutions by which the full-fledged commercialization of digital healthcare services with an exit strategy and sustainable digital health business will be achieved. DOCTORS established its original screening criteria and guidelines and selected expert doctors to provide advice based on their own specialties and experiences for clients to be able to create services in line with medical reality and to increase the probability of success in their business.
[About DOCTORS]
Company name: DOCTORS Co., Ltd.
Representative: Takao Yanagawa, President & CEO
Head office: 5F PMO Hamamatsucho II, 2-3-6 Shibakoen, Minato-ku, Tokyo 105-0011 Japan
Date of establishment: September 2016 (Started business in October 2019)
Business description: Providing Doctors Cloud™, commercialization support for digital healthcare services leveraging the network of active expert doctors* based on its own guidelines; Doctors Next™, a total support service for medical DX and digital health; and Doctors Station™, a medical-collaborative telemedicine support service.
*EXPERT DOCTOR: A network of doctors who have top-class experience and achievements in the clinical environment and have a positive attitude toward digital healthcare and medical DX. More than 400 doctors, mostly specialists, participate in this network.
URL: https://topics.doctors-inc.jp/renew21
[Relevant press releases]
■ Press release: "Launching Doctors Laboratory, a PCR testing center with as high a quality as of medical institutions"
https://topics.doctors-inc.jp/news/20210423/
■ Doctors Laboratory's website for postal PCR tests
https://lab.doctors-inc.jp
■ Press release: "Started providing new one-stop medical system for a large-scale
https://topics.doctors-inc.jp/news/20210610-b/
■ Press release: "Providing one-stop medical support service to COVID-19 patients for municipalities"
https://topics.doctors-inc.jp/news/20210913/
■ Press release: "DOCTORS Co., Ltd., entrusted with the operations of the Osaka Large-scale Center for Coronavirus Treatment and Recovery from Osaka Prefecture"
https://topics.doctors-inc.jp/news/20211028/
■ About Doctors Station™
https://doctors-inc.jp/doctors-station/
[Inquiries]
DOCTORS Co., Ltd.
Contact person: Inoue, Doctors Station Division
TEL: +81-3-6263-8871
Email: info@doctors-inc.jp
以上