To contribute to the improvement of individual well-being through the development and diffusion of digital health, which is a new trend in the medical and healthcare fields, DOCTORS Co., Ltd., (President & CEO: Takao Yanagawa; hereinafter referred to as "DOCTORS") and Mizuho Bank, Ltd., (President & CEO: Koji Fujiwara; hereinafter referred to as "Mizuho Bank") announce the building and development of a new business infrastructure that supports the development and diffusion of digital healthcare services for 's business partners as well as the utilization of health and medical data through IoT devices by taking advantage of DOCTORS' medical knowledge and perspective in the medical workplace provided by the network of more than 400 medical specialists. In addition, the two companies will form a capital alliance to accelerate this business, and Mizuho Bank will take a third-party allocation of new shares of DOCTORS by which both companies will strengthen their partnership.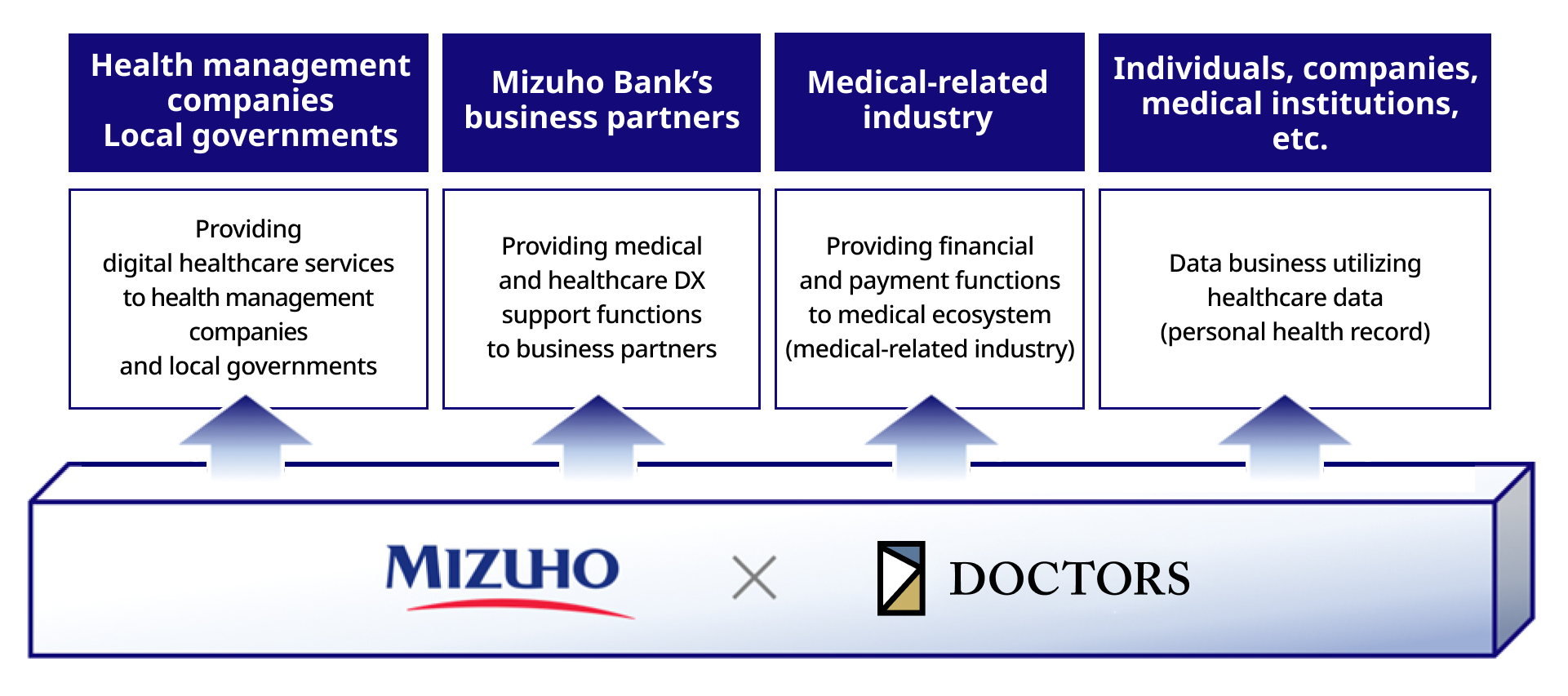 Today, as the interest in digital health is growing, every company is taking on the challenge of developing new medical IT services, treatment support apps, and online medical services. However, because of the medical specialties and the factors of medical-specific environments, it is extremely difficult to develop services that will be used in the actual medical workplace, and it remains difficult to secure doctors and to execute efficient joint research for such services. DOCTORS has networked doctors who have a high sensitivity to digital innovation, including specialists equivalent to professors working in general hospitals as "Expert Doctors" according to DOCTORS' own standards. Thus, DOCTORS, from the standpoint beyond conventional organizations, groups, and individual connections in the medical industry, provides medical knowledge to HealthTech startups, medical device manufacturers, pharmaceutical companies, insurance companies, and companies in other industries to support their success in the medical business of providing full-fledged digital healthcare services.
In the meantime, innovation utilizing technologies is developing in the medical and healthcare fields, and individual health awareness as well as the needs of companies' health management are also growing. Mizuho Bank, grasping such changes in the structure of the medical and healthcare fields, in cooperation with its group companies, including Mizuho Research & Technologies, Ltd., (President & CEO: Masahiro Otsuka) and Blue Lab Co., Ltd., (President & CEO: Shuji Munekuni), is focusing on the development of new businesses to solve a wide range of social issues by going beyond conventional financial boundaries.
By collaborating with Mizuho Bank in digital health, DOCTORS will provide its online medical care support platform to 's business partners nationwide to support the development, promotion, and diffusion of new services in the medical and healthcare fields.
[Digital health business engaged through this capital alliance]
1. Bridge between health management companies and their employees and digital healthcare service providers
*Also serving as a bridge between local governments (such as smart city) and urban development companies, and residents in those areas
2. Providing medical and health care DX support functions to business partners
3. Providing financial and settlement functions to the medical ecosystem (medical-related industries)
4. Data business making use of healthcare data, in other words, personal health records (PHR)
■About DOCTORS
DOCTORS is aiming to build an online medical care support platform that accelerates the development of community medicine and the digitalization of medical care with the "Powers of doctors x IT." Over 400 expert doctors with specialists and consultants with expertise in the medical and healthcare business provide one-stop support from the planning and development of digital healthcare services to distribution and sales to medical institutions by which the full-fledged commercialization of digital healthcare services with an exit strategy and sustainable digital health business will be achieved. DOCTORS established its original screening criteria and guidelines and selected expert doctors to provide advice based on their own specialties and experiences for clients to be able to create services in line with medical reality and to increase the probability of success in their business.
■About Mizuho Bank
Through new partnerships with its clients, Mizuho Bank is undertaking the creation of new value over the financial and nonfinancial sectors, which goes beyond the value of finance itself. Mizuho Bank is focusing on solving social issues and leveraging digital technologies not only with the knowledge and expertise possessed each member company of the but also in open collaboration with its business partners. Mizuho Bank will contribute to the creation of new social lifestyles by particularly taking the initiative as in the progress of digitalization in the medical and healthcare fields.
[About DOCTORS]
Company name: DOCTORS Co., Ltd.
Representative: Takao Yanagawa, President & CEO
Head office: 5F PMO Hamamatsucho II, 2-3-6 Shibakoen, Minato-ku, Tokyo 105-0011 Japan
Date of establishment: September 2016 (Started business in October 2019)
Business description: Providing various services, including Doctors Cloud™ to support the commercialization of digital healthcare services, Doctors Next™ for comprehensively supporting medical DX and digital healthcare services, and Doctors Station™ for supporting medical-collaborative telemedicine services by making use of the network of active EXPERT DOCTORS* based on original guidelines.
*EXPERT DOCTOR: A network of doctors who have top-class experience and achievements in the clinical environment and have a positive attitude toward digital healthcare and medical DX. More than 400 doctors, mostly specialists, participate in this network.
URL: https://topics.doctors-inc.jp/renew21
[Overview of Mizuho Bank, Ltd.]
Company name: Mizuho Bank, Ltd.
Representative: Koji Fujiwara, President & CEO
Location: 1-5-5 Otemachi, Chiyoda-ku, Tokyo
Date of establishment: July 1, 2013
Business description: is one of Japan's largest financial groups, which has an extensive client base domestically and internationally with member companies that include banks, trust banks, and securities under the wing of the holding company, the Mizuho Financial Group.