DOCTORS Co., Ltd., (head office: Minato-ku, Tokyo; President & CEO: Takao Yanagawa; hereinafter referred to as "DOCTORS") and Reed Exhibition Japan Ltd. (head office: Shinjuku-ku, Tokyo; President: Takeshi Tanaka; herein after referred to as Reed Exhibition Japan) hereby announce that they will co-sponsor the Digital Health Innovation Fair in Medical Japan, which will be held at Makuhari Messe in October 2021, to accelerate the digital healthcare field for companies and to newly create open innovation.
DOCTORS, which is familiar with digital healthcare, medicine, and the clinical environment, and provides Doctors Cloud™, a crowdsourcing service that makes more than 400 expert doctors, mainly specialists, available online, and Reed Exhibition Japan, which is a company that holds the largest international trade fair in Japan, team up to provide a place for innovation in the latest digital healthcare services by which the two companies will support the introduction and operation of full-fledged digital healthcare for all sectors, including healthtech companies, medical institutions, pharmacies, universities, research institutes, manufacturers, dealers, and wholesalers.
■ Background
In the new normal era where new lifestyles, work styles, and values are generated because of the spread of COVID-19, the promotion of digital transformation (DX) is an urgent task in every business and not only individuals but also companies are required to make major changes. Even in the medical field, there is no doubt that the preparation for DX in the medical and healthcare fields has been further accelerated because of the attention to telemedicine and online health consultation that are significantly different from conventional methods. In the future, the emergence of even more diverse digital healthcare services, such as apps that support newly pharmaceutically approved treatments, digital therapeutic software by disease, and various medical monitoring services utilizing the Internet of Medical Things (IoMT), are being awaited.
In order to promote medical DX, multiple perspectives are needed, not only the perspective of medicine, disease, medical practice, system and law but also that of how to fit your own company's technology and corporate strategy. However, it is difficult for a single company to adjust the system to meet all these perspectives, and Japanese administrations, systems, consciousness, culture, and the lack of human resources are pointed out as problems unique to Japan. Even compared to overseas, DX in our current situation is difficult to advance.
We are confident that we can back up companies to realize the development of products and services that can be truly accepted by the market and medical practices, followed by distribution, penetration, and establishment of these through the know-how and knowledge DOCTORS acquired from its promotion of medical DX, as well as with a wide network and the ability to grasp the latest trends of Reed Exhibition Japan. Thus, we planned this event as a trigger for DX in Japan.
■ Purpose of this partnership
It enables the two companies to support the digital healthcare business more strongly by combining DOCTORS' strength, comprehensive support service for digital healthcare development by highly-specialized expert doctors, and medical DX consultants with Reed Exhibition Japan's ability to draw in customers, skills for content, and its wide network.
Companies that will exhibit at the pavilion and those that have applied in advance can have business meetings at this event, and DOCTORS will assess and review the products of a certain company to propose and execute matching for such business meetings.
In the situation where companies in various industry sectors aim to develop new products and services in digital health x <<their own sector>>, DOCTORS and Reed Exhibition Japan will provide a place of interaction that can be widely used for collaboration, problem solving, new market development, and customer acquisition, and we will promote this event to advance the digitalization of medical and healthcare services in Japan.
■ About DOCTORS
Aiming to build an online medical support platform that accelerates the advancement of medicine and the digitalization of medical care with "the power of doctors x the power of IT," DOCTORS is providing the following three services.
– Doctors Cloud™: More than 400 expert doctors, mainly specialists, and consultants who are familiar with the medical and healthcare business provide one-stop support for the planning, development, clinical trials, and operation of digital healthcare services and will achieve commercialization of full-fledged digital healthcare services with an exit strategy.
– Doctors Next™: A comprehensive support service for medical DX and digital healthcare to doctors. It provides information on digital healthcare, communities, and a network with the parties concerned, as well as providing a new logistic platform to companies that are offering digital healthcare services.
– Doctors Station™: A platform for companies to build a healthcare service for B2C. It provides a full package of services to build online medical support, which responds to all clinical departments and supports patients comprehensively with team medical care, mainly by doctors.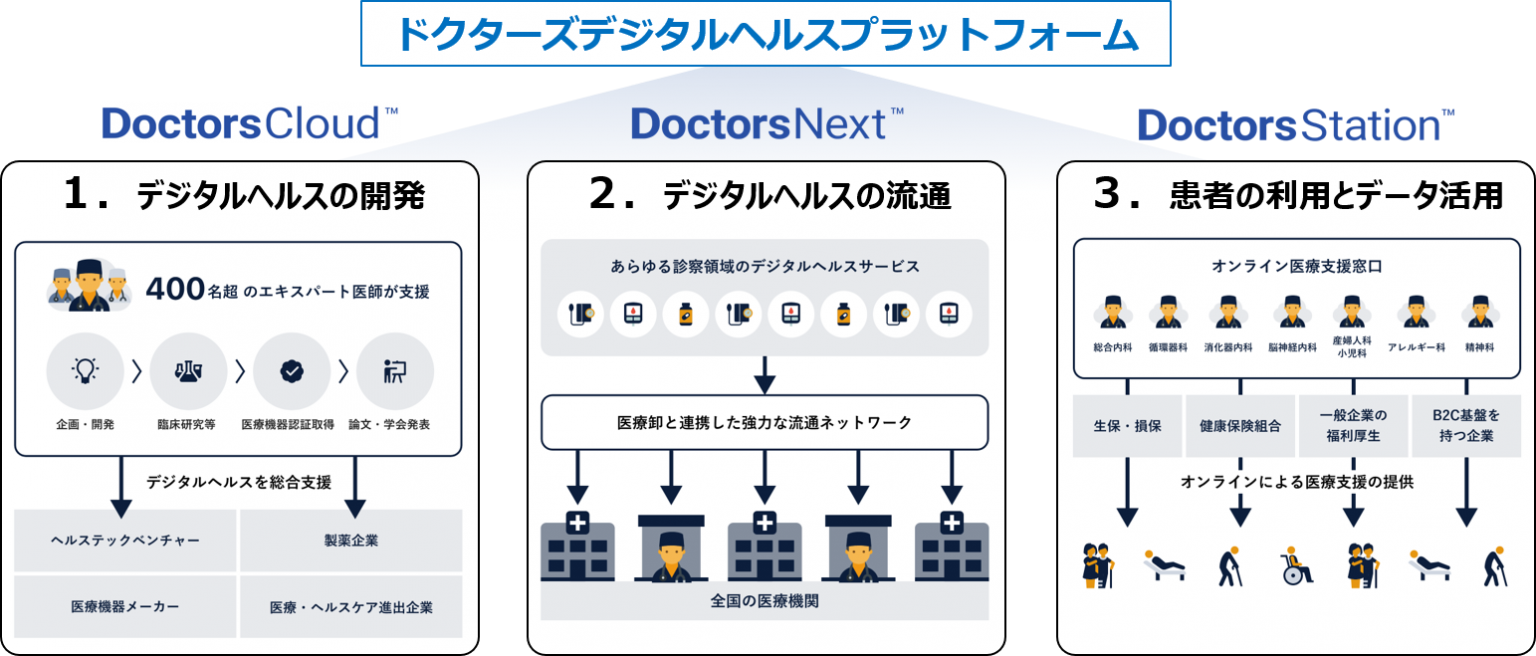 ■ About Reed Exhibition Japan
Reed Exhibition Japan is Japan's largest trade fair organizer.
It regularly holds 301 international exhibitions annually in 34 fields, covering various industries that include jewelry, glasses, publishing, electronics, energy, IT, medicine, and bio-related at large-scale exhibition venues, such as Tokyo Big Sight, Makuhari Messe, INTEX Osaka, and Portmesse Nagoya.
Reed Exhibition Japan contributes to the development of every industry as well as the revitalization of the Japanese economy by continuing to create trade fairs that exceed the expectations of both exhibitor companies and visitors and by taking advantage of Reed Exhibition Japan's know-how and its customer database cultivated for many years in organizing exhibitions where exhibitors can gain profit.
Changes in the number of conferences held annually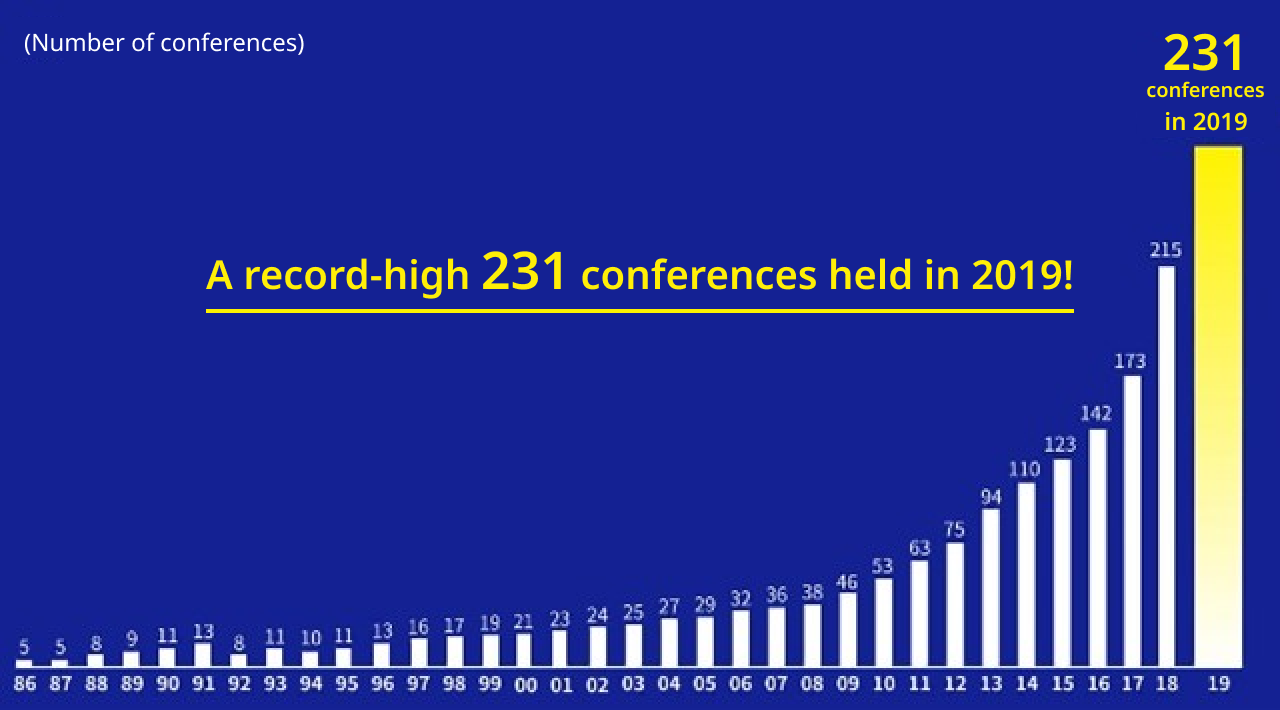 Total number of trade shows held by Reed annually
Changes in the number of exhibitors annually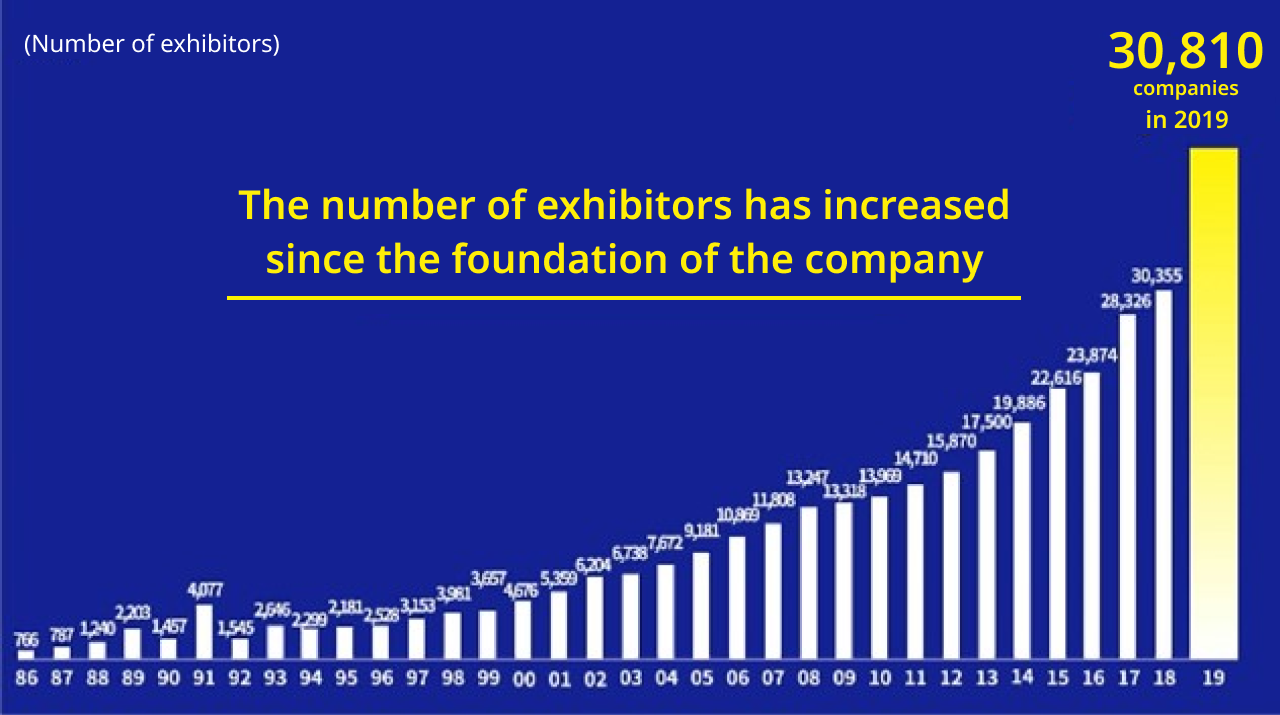 Total number of exhibitors in each trade show held by Reed
Company name: DOCTORS Co., Ltd.
Representative: Takao Yanagawa, President & CEO
Head office: 5F PMO Hamamatsucho II, 2-3-6 Shibakoen, Minato-ku, Tokyo 105-0011 Japan
Date of establishment: September 2016 (Started business in October 2019)
Business description:
Providing various services including Doctors Cloud™ for supporting companies in the commercialization of digital healthcare services, Doctors Station™ for supporting medical-collaborative telemedicine service that supports patients' behavior before medical examinations, Reception at Clinic, and Reception at Hospital, by making use of the network of active expert doctors (more than approximately 400 doctors as of today) based on its own guidelines.
URL: https://doctors-inc.jp/
[Overview of Reed Exhibition Japan Ltd.]
Company name: Reed Exhibition Japan Ltd.
Representative: Takeshi Tanaka, President
Location: 18F Shinjuku Nomura Building, 1-26-2 Nishishinjuku, Shinjuku-ku, Tokyo 163-0570
Date of establishment: August 1986
Business description:
Japan's largest trade show organizer, which has contributed to the development of various industries and the revitalization of the Japanese economy by organizing, planning, and operating more than 200 exhibitions and seminars per year in any field domestically and internationally.
URL: https://www.reedexpo.co.jp/