DOCTORS Co., Ltd., (head office: Minato-ku, Tokyo; President & CEO: Takao Yanagawa; hereinafter referred to as "DOCTORS"), which provides one-stop services for the development, support, sales, and distribution of digital healthcare services as well as support for medical cooperation telemedicine, and Muranaka Medical Instruments Co., Ltd., (head office: 2-3-6 Funakoshi-cho, Chuo-ku, Osaka City, Osaka; President & CEO: Ryota Muranaka; hereinafter referred to as Muranaka Medical Instruments) hereby announce that Muranaka Medical Instruments has introduced Doctors Next™, a digital healthcare support service provided by DOCTORS, and has started supporting medical digitalization that integrates in-person and online information for nationwide medical institutions, including hospitals and clinics.
Doctors Next™ is a service that provides the information on the latest digital medical care and digital healthcare services to doctors so that they can smoothly introduce digital healthcare services after consideration and careful selection in the medical front where medical DX is accelerating. To meet the needs of digital health in the clinical environment, MS (sales representatives for medical institutions) of Muranaka Medical Instruments will support medical digitalization of medical institutions through Doctors Next™, while supporting doctors across Japan together with its business partners.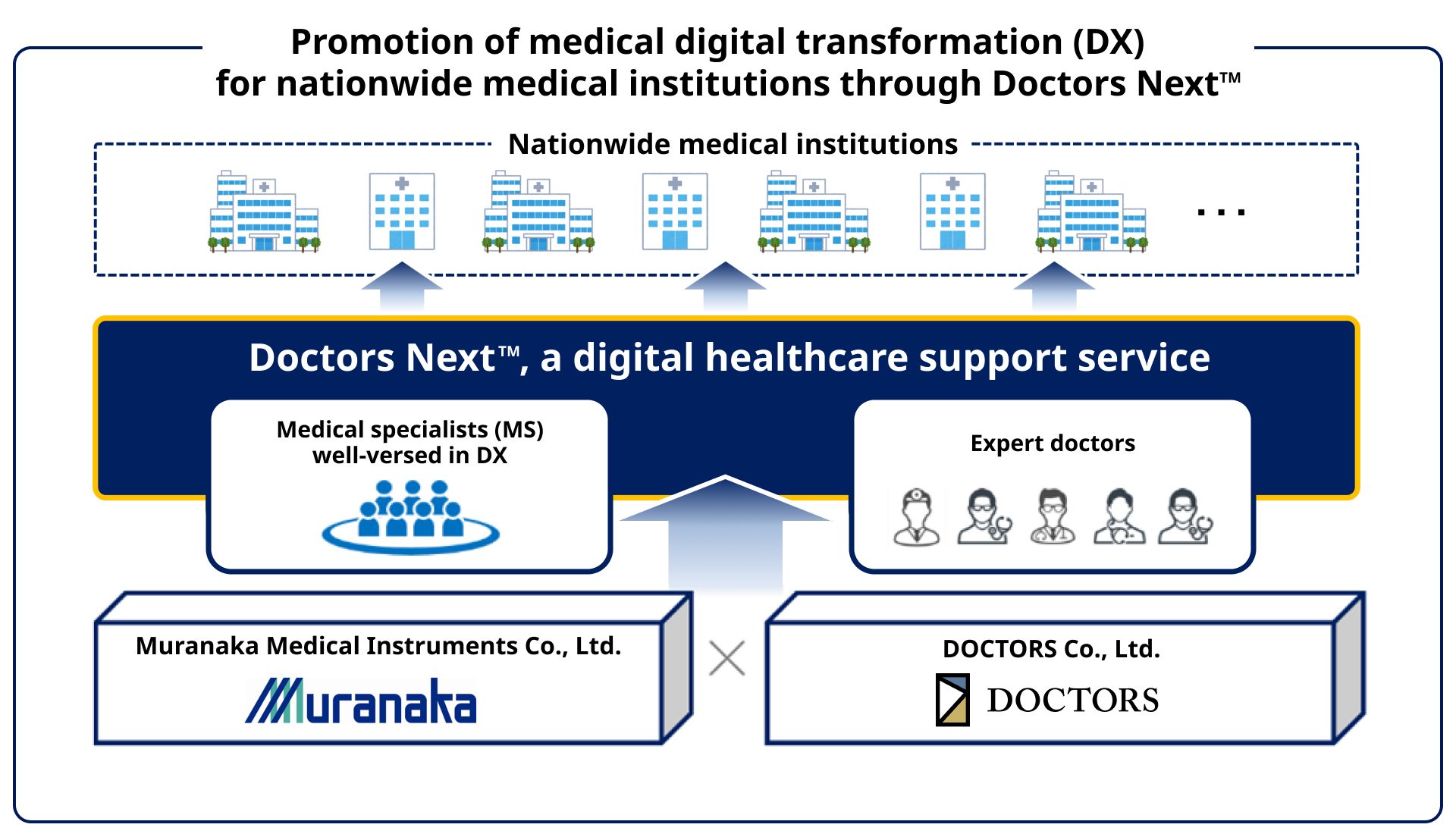 Figure: Promotion for the diffusion of medical DX for nationwide hospitals and clinics through Doctors Next™
To achieve the future medical care that utilizes digital technologies and data, it is important to properly deliver a wide variety of digital healthcare services developed by healthtech startups and the digital healthcare departments of companies to doctors. Digital healthcare services are utilizing the latest technologies of AI and the cloud to realize new innovation on the medical front. When making the selection and introduction of proper services according to the characteristics of each medical institution, we are required to have highly specialized knowledge of IT and digital technologies, which is different from that of pharmaceuticals and medical devices. On the other hand, we are still in the situation that each company providing digital healthcare services develops apps and services independently and promotes those individually. As actual circumstances, doctors cannot comprehensively work on digitalization, which means highly specialized support, because the medical DX environment is not developed well enough.
In order to solve these issues, Muranaka Medical Instruments, which has expertise as a wholesaler for medical devices and medical materials, introduced Doctors Next™ to combine its power of MS, who are familiar with DX, and the power of more than 400 expert doctors who belong to DOCTORS and are committed to digital health, and it has achieved a system to support medical DX for medical institutions in which in-person information and online information are integrated. In this way, Muranaka Medical Instruments will expand a system across Japan where doctors, who work on digitalization on the medical front and aim to create the next generation's digital hospitals and clinics, can study any one-stop digital healthcare service, including medical apps and medical AI, and smoothly select and introduce those services.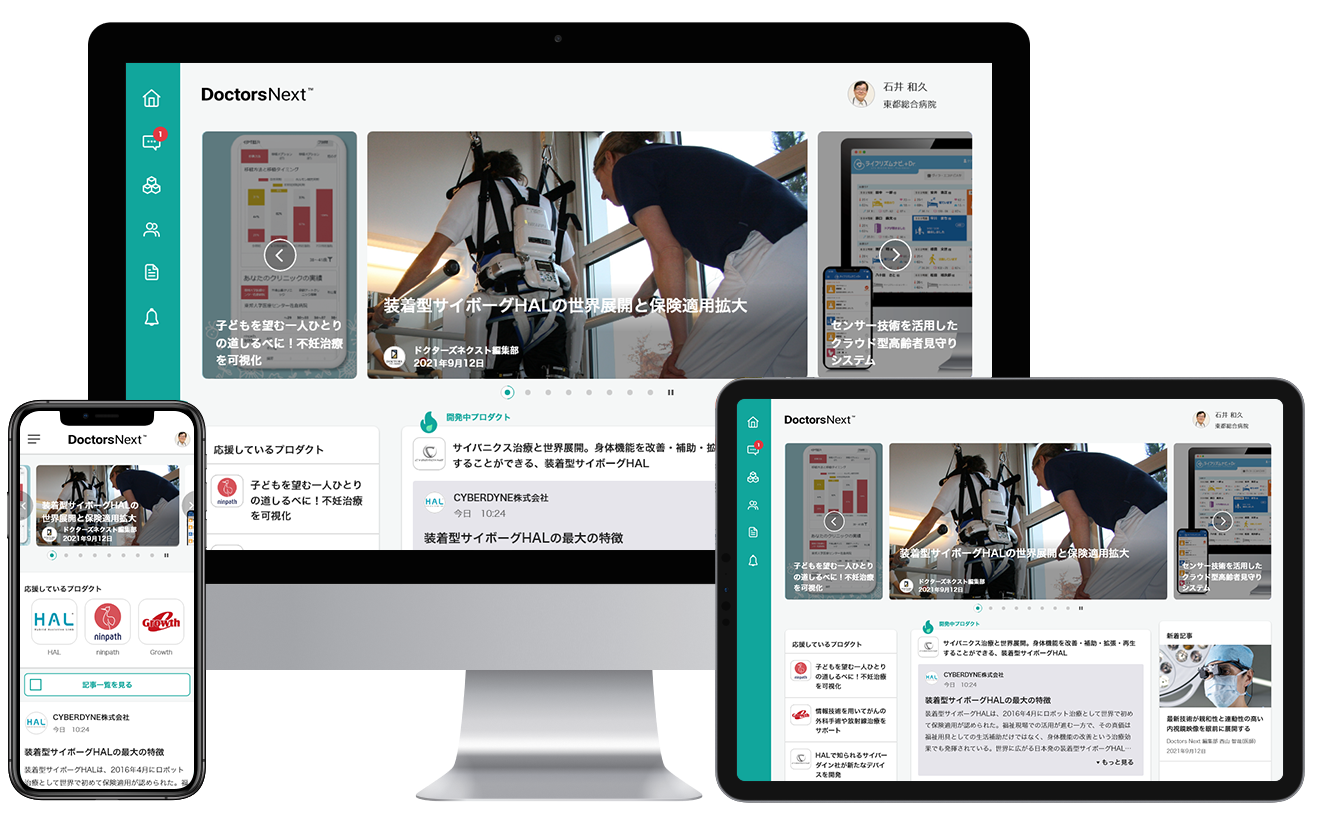 Figure: Screen displaying Doctors Next™, a digital healthcare distribution service
■What is Doctors Next™?
Doctors Next™ is a service to provide a place for doctors at medical institutions to know, experience, and use digital healthcare services with posted information on carefully-selected digital healthcare services from the perspective of medical evidence and the adaptability to clinical settings, which are provided by more than 400 doctors (expert doctors) who belong to DOCTORS and most of whom are medical specialists. Medical DX experts support doctors online and promote medical DX at medical institutions through chats and communities with people in charge at digital healthcare vendors. Doctors Next™ is operated in partnership with leading medical wholesalers as a medical DX support platform for medical institutions that generate doctors' understanding and empathy of digital healthcare and medical DX.
[Benefits for hospitals/clinics and doctors]

– Can learn the latest digital health information.
– Can find out how doctors evaluate digital healthcare services.
– Can consult on the introduction of digital healthcare service.
– Can receive support for medical DX at medical institutions.
DOCTORS will promote the digitalization at medical institutions and medical DX through Doctors Next™ together with Muranaka Medical Instruments. To aim for realization of better medical care for both doctors and patients, it will contribute to the further development of regional medicine focusing on community-based integrated care.
In the future, as a one-stop platform provider for digital health services that connects the development of digital healthcare services and distribution to sales and to services to patients online, DOCTORS will develop, diffuse, and expand the infrastructure of medical DX technologies and provide these to companies that develop digital healthcare services, medical institutions, pharmaceutical companies, and patients by which DOCTORS will contribute to the improvement of the quality of medical treatment and care.
■ About DOCTORS
DOCTORS is aiming to build an online medical care support platform that accelerates the development of community medicine and the digitalization of medical care with the "Powers of doctors x IT." Over 400 expert doctors with specialists and medical DX consultants with expertise in the medical and healthcare business provide one-stop support from the planning and development of digital healthcare services to distribution and sales to medical institutions by which the full-fledged commercialization of digital healthcare services with an exit strategy and sustainable digital health business will be achieved. DOCTORS established its original screening criteria and guidelines and selected expert doctors to provide advice based on their own specialties and experiences for clients to be able to create services in line with medical reality and to increase the probability of success in their business. 
■About Muranaka Medical Instruments
Muranaka Medical Instruments is a company that purchases a wide range of products from domestic and international manufacturers but also possesses many in-house developed products, and it expands the wholesale business of medical devices for nationwide hospitals through a network of medical device companies. In addition, it even deals directly with universities, their hospitals, and major public and private hospitals in Osaka. As such, it is a trading company specialized in medical equipment with unique characteristics, having a large number of sales representatives in various business categories and conducting its businesses while building relationships with doctors and nurses on the medical forefront. In order to meet the changes and needs of the social structure that are expected in the future, Muranaka Medical Instruments aims to expand its business scope to contribute to the entire healthcare field by building partnerships with other companies based on the unchanging ideal of "people and health."
[About DOCTORS]
Company name: DOCTORS Co., Ltd.
Representative: Takao Yanagawa, President & CEO
Head office: 5F PMO Hamamatsucho II, 2-3-6 Shibakoen, Minato-ku, Tokyo 105-0011 Japan
Date of establishment: September 2016 (Started business in October 2019)
Business description: Providing Doctors Cloud™, commercialization support for digital healthcare services leveraging the network of active expert doctors* based on its own guidelines; Doctors Next™, a total support service for medical DX and digital health; and Doctors Station™, a medical-collaborative telemedicine support service.
*EXPERT DOCTOR: A network of doctors who have top-class experience and achievements in the clinical environment and have a positive attitude toward digital healthcare and medical DX. More than 400 doctors, mostly specialists, participate in this network.
URL: https://topics.doctors-inc.jp/renew21
[Overview of Muranaka Medical Instruments Co., Ltd.]
Company name: Muranaka Medical Instruments Co., Ltd.
Representative: Ryota Muranaka, President & CEO
Location: 2-3-6 Funakoshi-cho, Chuo-ku, Osaka City, Osaka 540-0036
Year of foundation: 1903 (Established in 1942)
Business description: Wholesale, retail, import and export of medical and scientific instruments as well as designing and comprehensive planning of hospital facilities
URL: https://www.muranaka.co.jp/

[Inquiries]
DOCTORS Co., Ltd.
Contact person: Yasutaka Ogura, Doctors Next Division
TEL: 080-7111-8074
Email: doctors-next-support@doctors-inc.jp
Muranaka Medical Instruments Co., Ltd.
Contact: Toshiro Muranaka, Corporate Planning Department
TEL: 06-6943-1221