DOCTORS Co., Ltd., (head office: Minato-ku, Tokyo; President & CEO: Takao Yanagawa; hereinafter referred to as "DOCTORS"), which provides one-stop support for the commercialization of digital healthcare services, will strengthen its partnership with Doctors Laboratory (Location: Mihama-ku, Chiba City, Chiba) managed by medi transe Co., Ltd., (head office: Shinjuku-ku, Tokyo; CEO: Atsuhiko Kato; hereinafter referred to as "medi transe"), which provides the highest-level, most accurate services in medical specimen transportation, to launch a visit-and-collection-based PCR testing service for companies and organizations, using the testing system and equipment and reagents trusted by medical institutions.
In addition to its postal PCR testing service, DOCTORS is conducting simultaneous PCR testing for a large number of employees of administrative agencies, companies, and organizations by visiting the facilities according to their requests. This visit-and-collection-based PCR testing service is being developed that integrates DOCTOR's know-how on providing medical system support services with medi transe's outstanding track record on contracted testing, sample collection, and transportation, as well as its experience in PCR testing.
Though workplace vaccinations are progressing, it is considered necessary that we must continuously implement measures to prevent the spread of infection utilizing PCR testing without relaxing infection control measures because there are concerns about the emergence of new variants.
Companies and organizations require gathering places and transportation, such as workplaces, commuting, business trips, and travel to other prefectures. The visit-and-collection-based PCR testing service allows DOCTORS to provide for the safety of the employees and staff of such companies and organizations and provide reassurance to their clients more swiftly and with greater convenience.
[Overview of service]
Home visit and collection PCR testing service
Providing test kits, sample collection container and instruction for use
Supporting the collection of specimen
*Operational support can be provided for an additional fee if PCR testing is implemented on a large scale.
Collecting samples
Presenting the test results
Example of implementation procedures of a visit-and-collection-based PCR testing service
① Inquiry or order of PCR testing
‐ Briefing about the place, time and date and target scale with a person in charge
②Shipment of test kits
‐ Shipping test kits, sample collection container, and instructions for use by the time and date of PCR testing
‐ Implementing sample collection at facilities
③Collecting and transporting saliva samples
‐ Specialty contractor's visit to collect samples
④、⑤Notifying clients of the test results
⑤Reporting the implementation status of the test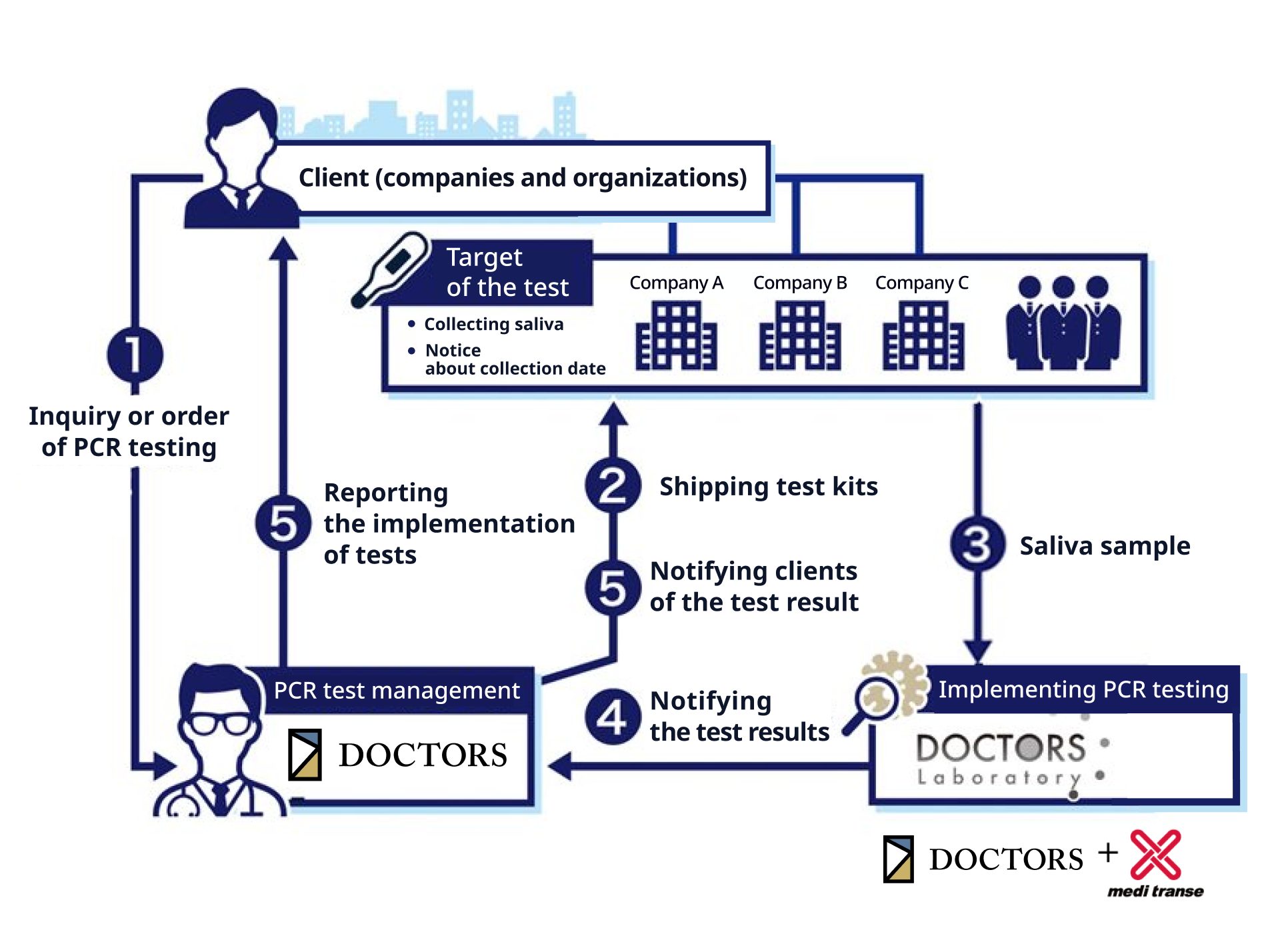 Target scale: estimated over 30 people
Areas in service: Mainly the five prefectures of Tokyo, Chiba, Kanagawa, and Saitama, and will be expanded sequentially
<Use of equipment and test reagents of as high quality as that of medical institutions>
Name of equipment used: LightCycler® 96 System (by Roche)
Name of reagent used: Ampdirect™2019-nCov Detection Kit (by Shimadzu)