DOCTORS Co., Ltd., (head office: Minato-ku, Tokyo; president & CEO: Takao Yanagawa; hereinafter referred to as "DOCTORS"), which provides one-stop services for the development, commercialization, sales, and distribution of digital healthcare services and support for medical aligned telemedicine, has partnered with GMO GlobalSign K.K. (CEO: Ichiro Chujo; hereinafter referred to as "GMO GlobalSign"), which expands e-authentication services as a member of the group of consolidated companies of GMO GlobalSign Holdings in the GMO Internet Group, to start providing Doctors DX Security, which was developed as a medical e-identification and e-authentication service that realizes online personal identification as well as a secure operational environment for digital healthcare services.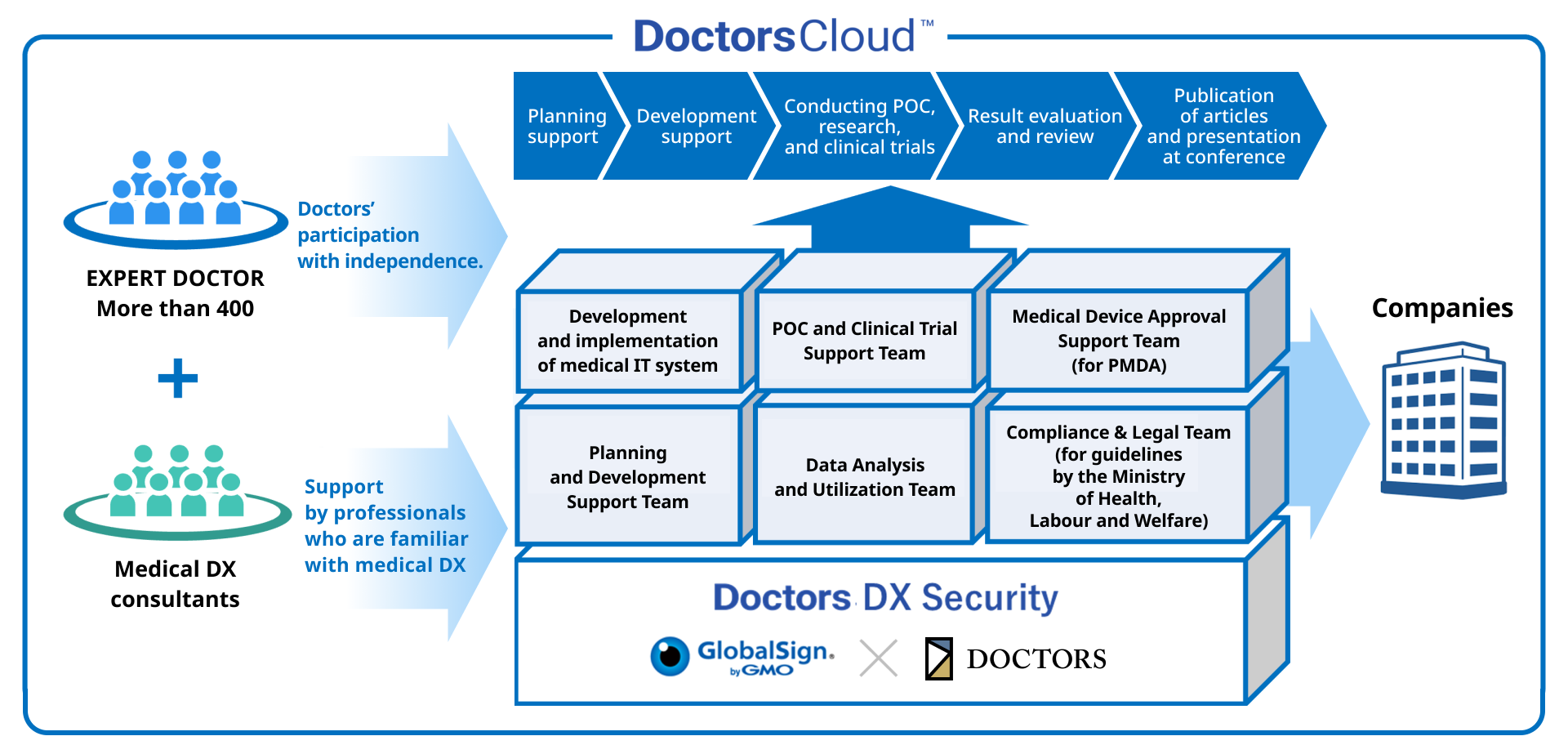 Figure: Digital healthcare development support utilizing Doctors DX Security
In a super-aging society, innovation in medical and health care is essential for extending the healthy life expectancy and suppress the increase in medical costs. The effective use of ICT is expected to contribute to the prevention of the onset and aggravation of diseases, effective and efficient diagnosis and treatment, and high-quality care. With the recent deregulation of telemedicine, it is expected that communication between doctors and patients on the Internet as well as the exchange of medical information will become more active. As such digital medical and health care services deal with highly confidential and sensitive information, a high level of security is required in both aspects of system and operation.
DOCTORS, working with over 400 expert doctors, has provided more than 150 companies with Doctors CloudTM, a service that supports the development of digital healthcare services combining the quality, medical standards, evidentiality, and business profitability acceptable to the medical workplace. Meanwhile, GMO GlobalSign has been developing various e-authentication businesses that include SSL server certificates and has numerous operational track records both domestically and internationally in both the public and private sectors and in any industry. In order to achieve the improvement of security within the medical workplace and development sites of digital healthcare services, DOCTORS and GMO GlobalSign, combining the strengths of these two companies, have developed and launched Doctors DX Security that supports the security risk measures necessary during the development of digital healthcare services. The utilization of Doctors DX Security will enable a more secure environment for development, which is most important in the development of digital healthcare services, to facilitate measures against reputational risks specific to medical care, the enhancement of the security of IoT devices and software according to the system, custom and structure within the medical industry, and the implementation of online identity verification.
In addition, both companies will engage in incorporating Doctors DX Security into Doctors StationTM, which is a telemedicine support platform that DOCTORS is promoting.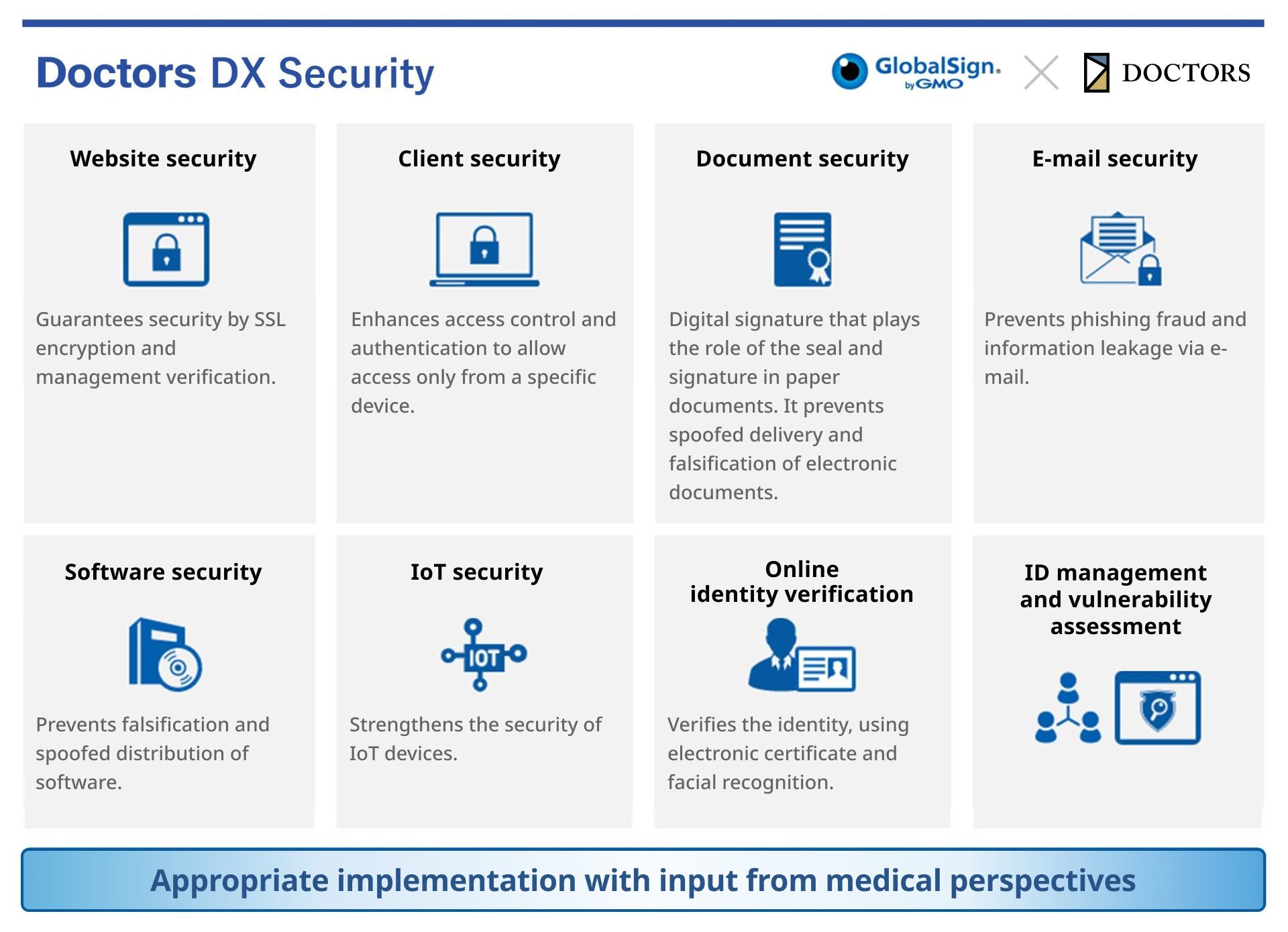 Figure: Doctors DX Security that provides advanced security to support medical care
DOCTORS and GMO GlobalSign will continue to provide more secure and convenient services according to the system, customs, and structure of the medical industry, as well as to contribute to the development of the digital medical care and healthcare fields, and the improvement of security.
■Doctors Cloud provided by DOCTORS
■Digital Health Security provided by GMO GlobalSign
By incorporating GMO GlobalSign's security technologies of SSL server certificates, access authentication, digital signatures, and ID management into telemedicine established by companies and medical institutions, as well as IoMT's system, we will be able to achieve both strong authentication and enhanced security. Doctors DX Security employs various security technologies by GMO GlobalSign, which implements the functions of service connection authentication, secure online identity verification, secure transmission and reception of medical and payment information, and the prevention of falsification of medical statements and prescriptions as well as spoofing.
---
[Overview of DOCTORS Co., Ltd.]
Company name: DOCTORS Co., Ltd.
Representative: Takao Yanagawa, President & CEO
Head office: 5F PMO Hamamatsucho II, 2-3-6 Shibakoen, Minato-ku, Tokyo 105-0011 Japan
Business description: Providing various services that include Doctors Cloud™ for supporting commercialization of digital healthcare service, Doctors Next™ for comprehensively supporting medical DX and digital healthcare service, and Doctors Station™ for supporting medical-collaborative telemedicine services by making use of the network of active expert doctors (more than 400 doctors as of today) based on its own guidelines.
Website: https://doctors-inc.jp/
[Overview of GMO Internet, Inc.]
Company name: GMO GlobalSign K.K.
Representative: Ichiro Chujo, CEO
Location: Shibuya FUKURAS, 1-2-3 Dogenzaka, Shibuya-ku, Tokyo
Business description: It started providing its service of electronic authentication in Belgium in 1996, around the time such services began to emerge. It has more than 10 years of experience as a root certificate authority and a track record of electronic certifications issued in a cumulative total of over 25 million. Its solutions in various types of electronic certification and authentication, including SSL server certificate, have been adopted by companies and organizations worldwide in diverse industries and business categories.
Website: https://jp.globalsign.com/
[Inquiries]
DOCTORS Co., Ltd.
Contact person: Tachiya, Platform Division
TEL: +81-3-6263-8871
Email: info@doctors-inc.jp