– To create new food business with medical knowledge added –
Sanmaruko Foods Co., Ltd., (head office: Sapporo City, Hokkaido; CEO: Koichi Fujii; hereinafter referred to as "Sanmaruko Foods") and DOCTORS Co., Ltd., (head office: Minato-ku, Tokyo; President & CEO: Takao Yanagawa; hereinafter referred to as "DOCTORS") hereby announce that they will conduct clinical research for the purpose of developing medical food for diabetics.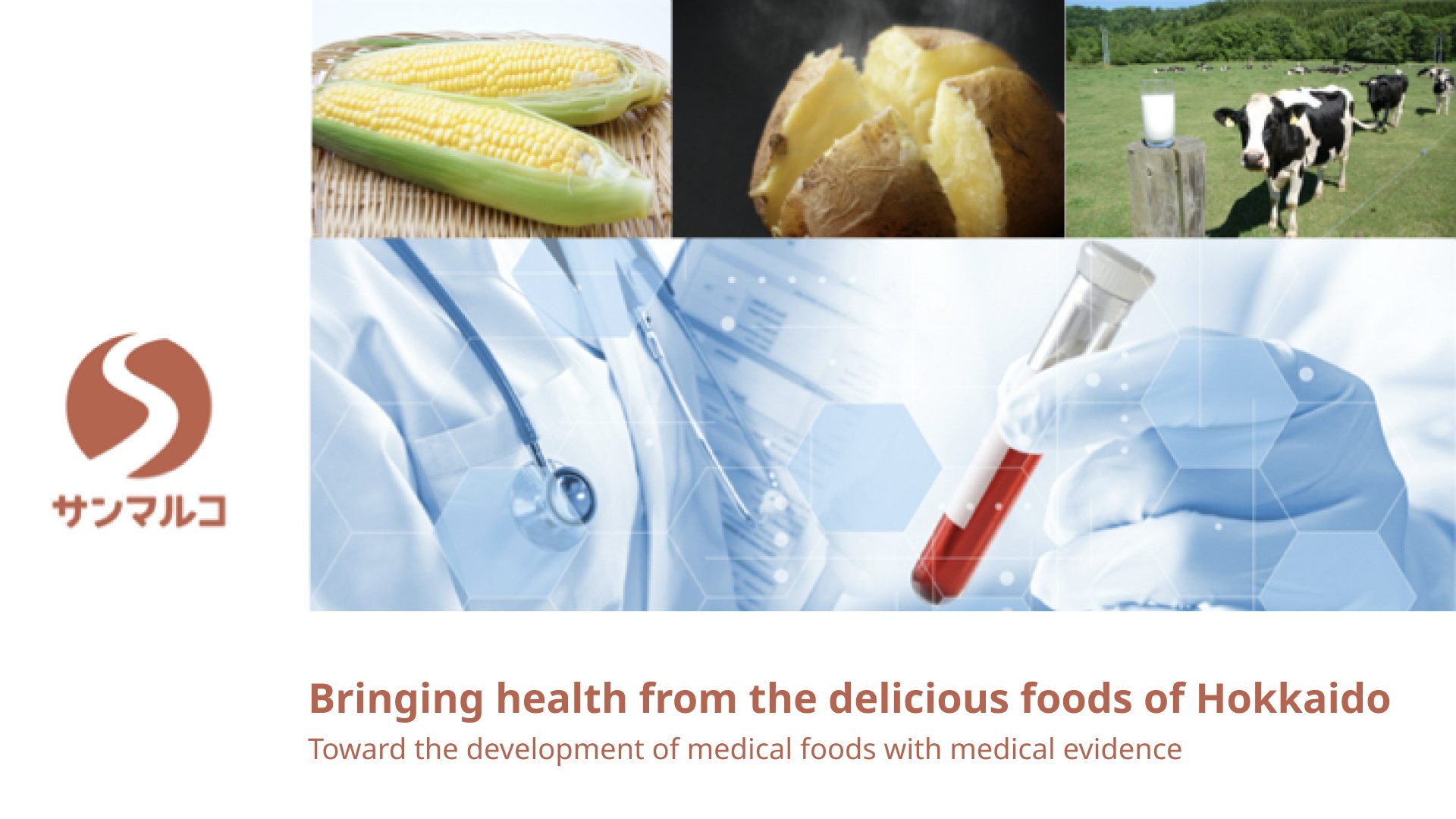 Diabetes is generally treated with exercise therapy and diet therapy. However, it is never easy for patients to properly and nutritionally control their diets at every meal. A diet with controlled nutrition has the disadvantage that it is difficult for patients to gain satisfaction because they often feel short in taste. In addition, there is an issue that they feel easily stressed because they cannot eat their favorite foods freely, and they have to eat different meals from their family members. Even for those who prepare for meals, there are difficulties, such as complicated calculations of nutrients and the needs of thinking of a menu for patients at every meal.
The frequency of patients going out and the amount of exercise by frequency of commuting are on the decline with the spread of COVID-19 in recent years. Therefore, the needs for delicious and simple dietary therapy are increasing more than ever. At the time of COVID-19, we will combine the technology of food development by Sanmaruko Foods and the medical knowledge of DOCTORS to develop delicious medical foods that are easy to prepare and properly controlled nutritionally.
Accordingly, we will raise funds through crowdfunding from Friday, May 14 to Sunday, July 18 for the purpose of fund procurement for clinical research to verify the effects of use.
■Outline of crowdfunding
| | |
| --- | --- |
| Medical foods we aim to develop | Targeting diabetics for whom the control of the diet is the most important factor in treatment, we will develop food products whose nutritional balance is properly controlled and whose taste is delicious to support diabetes treatment. After verifying their effects in clinical research, we will develop food products in series for diseases, such as hypertension and kidney disease, the treatment of which is significantly affected by diet improvement. |
| Fundraising period | From Friday, May 14, 2021, to Sunday, July 18, 2021 |
| Platform | READYFOR |
| Link to the project | https://readyfor.jp/projects/sanmaruko |
■Description of clinical research
We will have Type 2 diabetics take our medical food for five days a week for four weeks, and we will verify the effects of the medical food on glycemic control in each patient. This research is scheduled to begin within 90 days after the research fund has been procured through crowdfunding and will run for five months. We have set three levels of the target amount in this crowdfunding, and we will carry out research and development according to the amount we have achieved.
LEVEL 1: Achieving 9 million yen
Clinical research to acquire basic data
We will have five to 10 patients with type 2 diabetes take medical food to perform a simple analysis of the basic data on the results of intake.
LEVEL 2: Achieving 15 million yen

Clinical research on a large scale enough to verify the statistical significance

We will have 14 patients with type 2 diabetes take medical food to verify the medical evidence by analyzing the various data on the results of intake.

LEVEL 3: Achieving 18.5 million yen
In addition to the clinical research at LEVEL 2, we will conduct continuous development for product sales based on the analysis of research results. If we are able to raise funds of 18.5 million yen or more, we will consider expanding the scope of clinical research (e.g., the number of sites and patients) and making presentations at academic conferences, depending on the raised amount.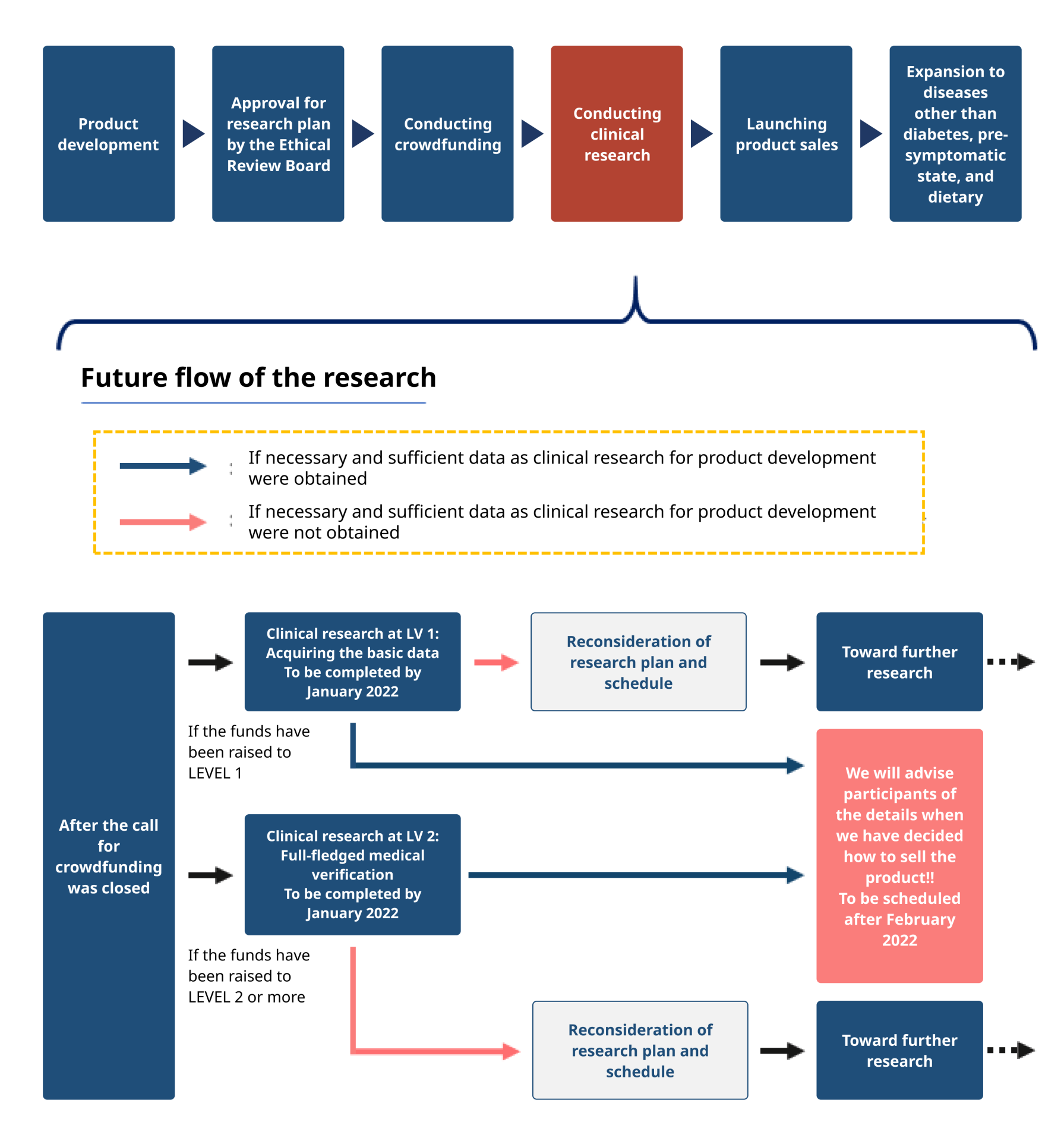 Sanmaruko Foods and DOCTORS have concluded a capital alliance agreement with the aim of the creation of a new business that combines the food business by Sanmaruko Foods with medical knowledge of DOCTORS. In the future, we will deliver meals with medical evidence that are easy-to-prepare, delicious, and health-supporting.
PR Times Click here for the press release.
■About Sanmaruko Foods
Since its foundation, Sanmaruko Foods has been promoting the development of delicious products based on safety, security, health, and honesty under a thorough hygiene concept as a manufacturer of frozen foods by using agricultural products harvested in Hokkaido. With the corporate mindset since the foundation that frozen foods should be at the level of quality where people can easily enjoy the taste of home, Sanmaruko Foods delivers first-class quality products to the table across the country day and night while completing all processes covering processing, freezing, and packing in-house. We strive to pursue the taste of typical Hokkaido, taking advantage of the rich blessings of Hokkaido, where our company is based. We will continue to adapt to the ever-diversifying dietary lifestyle with high-quality ingredients, executing strict quality standards and hygiene management.
Representative: Koichi Fujii, CEO
Head office: 4-1-1-48 Atsubetsu-higashi, Atsubetsu-ku, Sapporo City, Hokkaido
Date of establishment: December 1979
Business description: Manufacturing and selling frozen foods mainly with croquette, spring rolls, gratins, imo-mochi (potato cake), sauce, and soup
Official website: http://www.sanmaruko.co.jp/
■About DOCTORS
By aiming to build an online medical care support platform that accelerates the development of community medicine and the digitalization of medical care with the "Powers of doctors x IT," and by providing one-stop support from the planning and development of each business company's digital healthcare services to the distribution and sales to medical institutions by over 400 expert doctors, including specialists and consultants who are well-versed in the medical and healthcare businesses, DOCTORS will commercialize full-fledged digital healthcare services with an exit strategy and achieve a sustainable digital health business.
Representative:Takao Yanagawa, President & CEO
Head office:5F PMO Hamamatsucho II, 2-3-6 Shibakoen, Minato-ku, Tokyo 105-0011 Japan
Date of establishment:September 2016 (Started business in October 2019)
Business description:Providing Doctors Cloud™, commercialization support for digital healthcare services leveraging the network of active expert doctors based on its own guidelines; Doctors Next™, a nationwide medical-collaborative network service; and Doctors Station™, a telemedicine support platform.
Official website:https://doctors-inc.jp/