Doctors Co., Ltd., (head office: Minato-ku, Tokyo; President & CEO: Takao Yanagawa; hereinafter referred to as "DOCTORS"), which provides total comprehensive support from development to the provision of a platform for digital healthcare services, and Nishimoto Co., Ltd., (head office: Chuo-ku, Tokyo; Chairman & CEO: Yoshiro Susaki; hereinafter referred to as the "Wismettac Group"), which develops the wholesale business mainly with Asian foods and ingredients through a globally established food network, have concluded a basic agreement to consider a business partnership for the development of a medical food platform, which will promote medical DX in the medical x food field.

The medical food platform is a structure to create and operate new food services in the medical field. It is a platform that provides an environment where one-stop support is available for food-related companies to provide a new food service business. In order to solve issues faced by those companies that are working with medical food and to reliably deliver those foods to consumers who need them, the support ranges from food and app planning and the designing of the cloud to the implementation of clinical research and to sales and distribution through online and medical institutions. Furthermore, to meet market needs, support for obtaining the certification of medical devices is also being considered.
To realize essential digital healthcare services from the perspective of doctors at the medical front, DOCTORS provides an online medical team, medical DX platform, and medical practice operation, which will lead the coming digital healthcare era. On the other hand, the greatest strength of the Wismettac Group, as a food company that can find a global solution, lies in providing internationally consistent services from planning and development through the sales and distribution of foods and ingredients.
With this collaboration, we, DOCTORS and the Wismettac Group, will start to build the medical food platform, which manages treatment and care in the medical setting through diet, as well as daily maintenance and improvement of health, by combining the unique strengths of the two companies and promoting medical DX in the medical x food field. The participation of food-related companies on this platform will enable the general public and patients to offer new services with digital healthcare, such as a service where various foods and ingredients are linked to medical apps.
■ Medical food platform concept
Initiatives for health related to foods so far have been mainly focused on foods for specified health use and with function claims for the general public and liquid diets and infusion solutions for hospitals. However, diet, which everybody takes every day, has a great potential to contribute to medical care and health even more. It is possible to realize a new service that provides treatment and care for diseases as well as maintenance and improvement of daily health while updating people's dining experience by combining digital technology, such as the cloud and AI, in addition to conventional efforts, such as food ingredients, seasoning, freshness, and food additive reduction. This platform will not only offer opportunities to encounter appropriate foods to the general public and patients but create and operate apps that will enhance the therapeutic effects of the diet by which we will provide services that can maintain and improve people's health through their diet.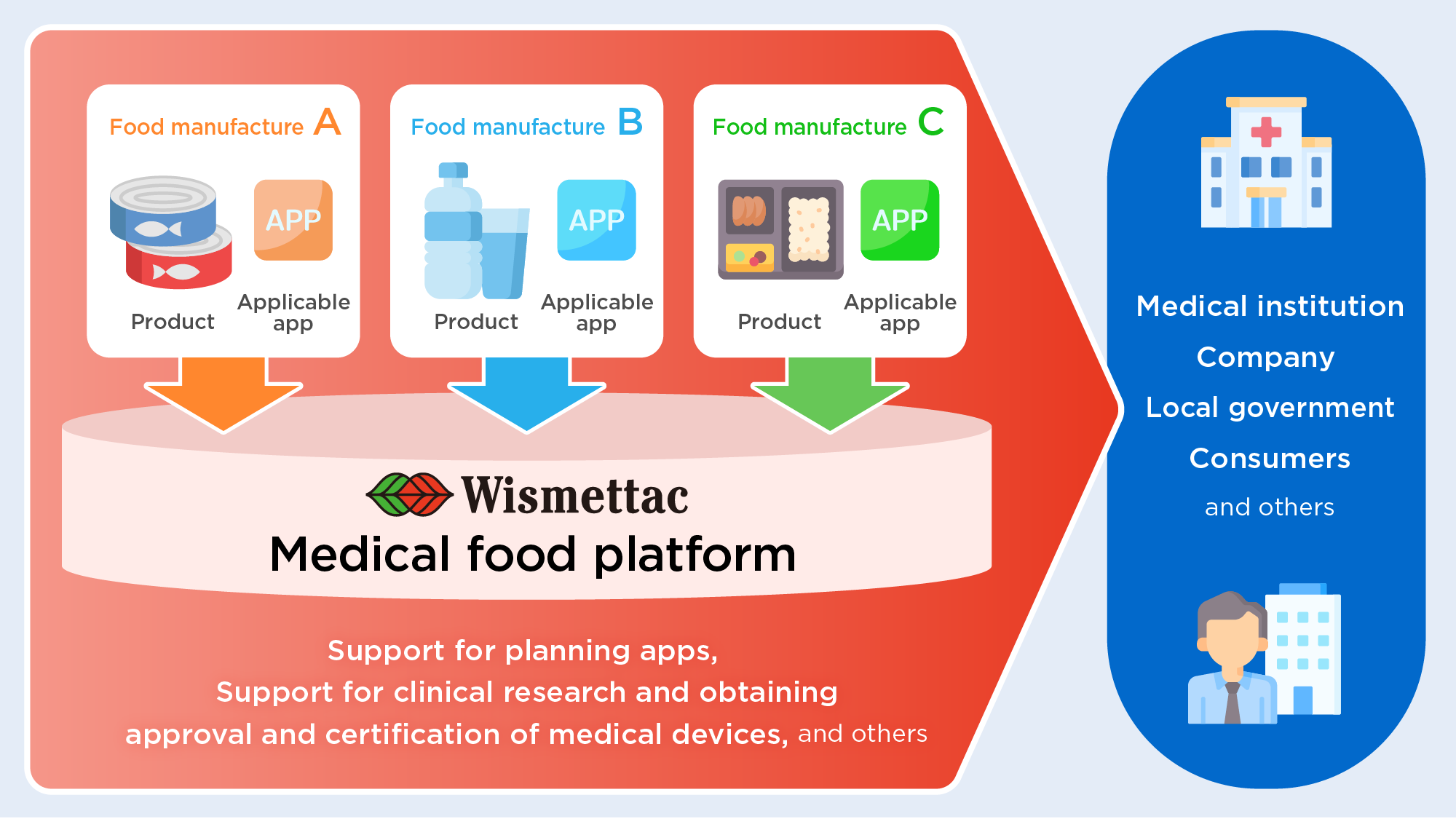 Figure: Example of an operation of the medical food platform, medical x food
With this platform, we, DOCTORS and the Wismettac Group, will make efforts to achieve a society where everyone can live healthier lives by developing and supporting new services related to medical foods for food-related companies and by providing a structure for the treatment, maintenance, and improvement of health through the diet. We are planning to develop new businesses utilizing this platform in the future. We will inform you as soon as we are ready to provide any of them.
■ Call for participating food manufacturers
For commercialization of this platform, we are calling for partner companies, mainly of food manufacturers. Please contact us from below if you are interested in jointly promoting initiatives for the development of new medical foods and therapeutic applications.
[Inquires about this call]
Medical Food Platform Office, Nishimoto Co., Ltd.
■ Utilization of Doctors Station® DX
To achieve this new medical food platform, we will leverage Doctors Station® DX by DOCTORS, which provides a medical cloud platform that consolidates online medical technologies, such as digital health technology, telemedicine, and online medical interviews, as well as a one-stop medical institution platform that collaborates with hospitals and clinics nationwide.
<<Features and services>>
1)    Medical cloud platform for building medical and health care services

2)  Framework built for medical portal services

3)  Framework for medical chat and medical communities

4)  Providing online medical team
DOCTORS will promote the development of these medical cloud platform technologies for the expansion of the medical food platform business.
■ What is Doctors Station® DX?
Doctors Station® DX is a platform for building medical and healthcare services that enable a comprehensive introduction to medical portals and dedicated pages for medical communities and related stakeholders, which will be required to more extensively promote the development of medical and healthcare services by Doctors Station®.
<<Features of Doctors Station® DX>>
(1) A set of environment for Doctors Station®, an online hospital platform
(2) DX Portal: Portal framework
(3) DX Page: Page framework
(4) Medical community's framework
(5) DX Utility: Medical IDaaS platform, medical data management platform, and medical application management platform
(6) DX Security: Medical security
(7) Other options: DX Connect and DX Pay

Figure: Component elements of Doctors Station® DX, platform for building medical and health care services
Medical food platform of the Wismettac Group will be built and operated with various customizations based on Doctors Station® DX.
■ Company information
[Overview of Doctors Co., Ltd.]
Company name: Doctors Co., Ltd.
Representative: Takao Yanagawa, President & CEO
Head office: PMO Hamamatsucho II 5F, 2-3-6 Shibakoen, Minato-ku, Tokyo
Establishment: September 2016
Launch of business: October 2019
Business description: By making use of the network of active expert doctors* based on its own guidelines, Doctors Co., Ltd., provides services that include Doctors Cloud® that offers planning and development support for commercialization of digital healthcare services, Doctors Next® that offers comprehensive support services for medical DX and digital healthcare, and Doctors Station® that offers online medical support services in collaboration with medical care.
*Expert doctors: A network of doctors with top-class clinical experience and achievements as medical doctors, as well as a positive attitude toward digital healthcare and medical DX. More than 700 doctors, mostly specialists, participate in the network.
Website: https://doctors-inc.jp
[Nishimoto Co., Ltd.]
Company name: Nishimoto Co., Ltd.
Representative: Yoshiro Susaki, Chairman & CEO
(Code No. 9260 on the Tokyo Stock Exchange Prime Market)
Head office: 15th Floor, Nihonbashi Muromachi Mitsui Tower, 3-2-1, Nihonbashi Muromachi, Chuo-ku, Tokyo
Establishment: May 1912
Business description: Development and sale of Asian food worldwide (Asian food global business)
Sales of agricultural and fishery products domestically and internationally (Agricultural & Seafood Products Trading Business)
Sales of other products (including amenities and foods)  domestically and internationally
Website: https://www.wismettac.com
■ Inquiries about this release
Public Relations Officer, Doctors Co., Ltd.
TEL: +81-3-6263-8871      Email: info@doctors-inc.jp
Business Management Office, Nishimoto Co., Ltd.
TEL: +81-3-6870-2015
Webiste for inquiry: https://www.wismettac.com/ja/contact.html